Welcome to the official website of the Australian Embassy in Brazil. Find out more here about Australia, its culture, history, economy and people; how to apply to visit, study or work in Australia; and about the relationship between Australia and Brazil - and much more!
Want to develop your business with Australia?
The Australian Government believes that investment in innovation, science and research is the key to our social and economic development. In early August the government released a booklet, "Partnering With Australia On Innovation, Science and Research", which outlines a range of opportunities to invest in and collaborate with Australian organisations on science, research and innovation. The best innovations are born out of collaboration and Australia is looking to build its links internationally to deliver on our vision of an open and entrepreneurial economy. In order to enable this cooperation, the Australian Government has opened applications for the Incubator Support Initiative, which provides two types of assistance: to new or existing incubators and to Expert-in-Residence:
The first program aims to help develop new incubators in regions or sectors with high potential for success in international trade, and to boost the effectiveness of high performing incubators, including funding support to expand their services and/or develop the innovation ecosystem (up to AUD 500,000/ BRL 1.2 million per project with a maximum grant period of 24 months)
The Expert-in-Residence aims to provide access to top quality research, managerial and technical talent by seconding national or international expert advisers to improve an organisation's prospects of success in international markets (up to AUD 25,000/ BRL 60,000 per project with a maximum grant period of 12 months).
More information on the Incubator Support initiative
Read "Partnering with Australia on Innovation, Science and Research"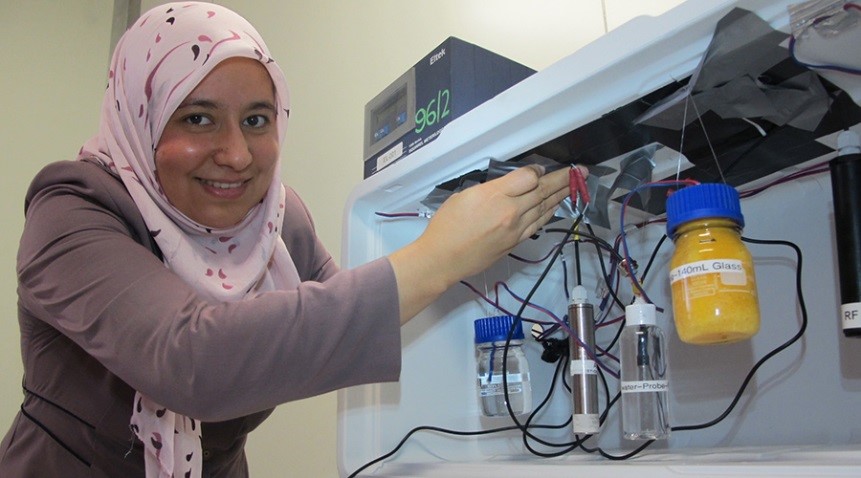 Dr Hamid, research fellow at Griffith University's School of Engineering, has been collaborating with SuperCool Asia Pacific on a thermal sensor system.
Australian Bureau of Statistics (ABS) - Australian Marriage Law Postal Survey
The Australian Government will proceed with the Australian Marriage Law Postal Survey of all Australians on the Commonwealth Electoral Roll. Instructions on survey participation will be published on the Australian Bureau of Statistics (ABS) website.
Overseas Australians, who are on the Electoral Roll, and have registered as an overseas voter and provided their overseas address, will have a request for response sent directly to their overseas address.
Additional information regarding Australian Marriage Law Postal Survey for Australians overseas can be found on Smartraveller.
Using an Education Agent
Education agents provide a valuable service for students and most operate with the highest levels of integrity. However, some agents in this region have not provided services to students in an honest way. If you have been affected, you should contact the institution in Australia with which you were intending to study for more information.
Stay safe when using education agents by:
understanding any fees and charges before you sign a contract, enter into an agreement or make a payment. You should also get a receipt for any payment you make.
using an education agent supported by the institution you wish to study at. You can find a list of supported agents on most providers' websites.
asking questions about your course and provider. Your agent must be able to tell you about your potential studies.
asking for information about your agent, including their website address, whether they have connections with other providers, how to contact them and whether they have connections or ties with other organisations operating in your country or in Australia.
contacting your education provider directly if your agent's behaviour doesn't seem right.
If you believe that your education agent has committed a crime, such as fraud, please report this to the police.
This fact sheet contains important information for student visa holders about living and studying in Australia, including your consumer rights and responsibilities as an international student and key things you should know before and during your study.

Direct Aid Program (DAP)
The Direct Aid Program (DAP) is a flexible, small grants program funded by the Australian Government and managed by the Department of Foreign Affairs and Trade. The goal of DAP is to advance developmental objectives and address humanitarian hardship in developing countries, while at the same time fulfilling Australia's international relations and public diplomacy objectives.
There is still no date for registration for the DAP 2017/2018 cycle. All updated information and documentation will be posted shortly here and on our Facebook page (AustraliaNoBrasil).
More information about DAP can be found on our Development Cooperation page.

Electronic Tourist Visas
The Australian Government has expanded its electronic tourist visa (known as e600 - Tourist Stream Visa) to citizens of Brazil to provide a more convenient and streamlined service. More information.

Australian Citizens
Need our help? For consular assistance, please call – any time, any day – one of the following:
Australian Embassy in Brazil: +55 (61) 3226 3111
Consular Emergency Centre in Canberra: +61 2 6261 3305 or toll free (local call cost only in Australia) 1300 555 135
If you have trouble dialling from within Brazil, check that you are using the correct dialling and operator codes.
Contact details for the Australian Consulate-General in Sao Paulo and the Consulate in Rio de Janeiro can be found in the \'About Us\' section, and contact details for the tourist police in these cities are listed in the 'Where to get help' section of the Australian Government's travel advice for Brazil.
We encourage all Australian travellers and residents in Brazil to:
Registering with the Australian Embassy in Brazil is very important. This information will help us to contact or find you in an emergency - whether it is a natural disaster, civil disturbance or family emergency. It may also be used to pass other information to you such as important travel advice updates, notice of elections and information on other matters relevant to travellers and expatriates.

To get the latest information about travelling and living in Brazil, read the:

Lost or Stolen Passports
Has your Australian passport been lost or stolen in Brazil? Report it online or to the Embassy (contact details above). You may need to obtain an Australian passport in Brazil. More information is available on the Australian Passports Office website.