Welcome to the official website of the Australian Embassy in Brazil. Find out more here about Australia, its culture, history, economy and people; how to apply to visit, study or work in Australia; and about the relationship between Australia and Brazil - and much more!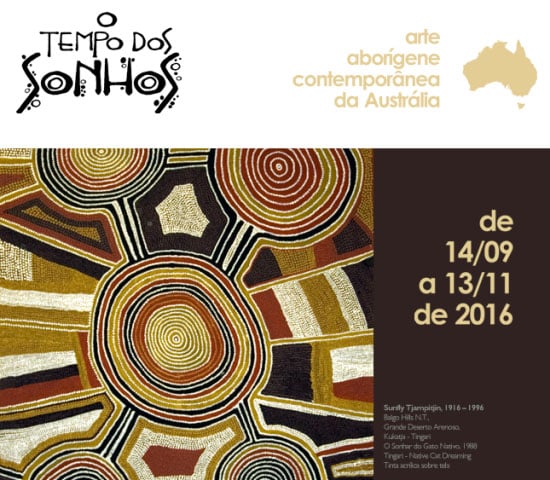 Have you seen?

Some of the finest Australian Aboriginal art? For the next 30 days the exhibition "Out of the Dreaming" will be in Fortaleza!

The Australian Aboriginal culture is the longest continuous culture in the world, dating back some 50,000 plus years. The art works on display celebrate this culture, showcasing Aboriginal traditions. There are paintings, sculptures and printed art of the Aboriginal stories behind the authors of these works of art, influenced by natural elements and the respect for fauna and flora. But Aboriginal art is not artifact; it is a living culture and some of the works represent the impact of interaction with White society, humorously and seriously. The pieces are part of the extensive catalog of the oldest Aboriginal Art Gallery in Australia, Coo-Art Gallery, as well as some rare pieces from private collections, coming exclusively to Brazil!

Don't miss out: Caixa Cultural Fortaleza - Av. Pessoa Anta, 287 - Praia de Iracema

Direct Aid Program (DAP)
The Direct Aid Program (DAP) is a flexible, small grants program funded by the Australian Government and managed by the Department of Foreign Affairs and Trade. The goal of DAP is to advance developmental objectives and address humanitarian hardship in developing countries, while at the same time fulfilling Australia's international relations and public diplomacy objectives.
After receiving more than 800 applications the DAP Committee has selected 48 projects to go to the second phase for the 2016-2017 grant round. Click here to see the results!

Electronic Tourist Visas
The Australian Government has expanded its electronic tourist visa (known as e600 - Tourist Stream Visa) to citizens of Brazil to provide a more convenient and streamlined service. More information.

Australian Citizens
Need our help? For consular assistance, please call – any time, any day – one of the following:
Australian Embassy in Brazil: +55 (61) 3226 3111
Consular Emergency Centre in Canberra: +61 2 6261 3305 or toll free (local call cost only in Australia) 1300 555 135
If you have trouble dialling from within Brazil, check that you are using the correct dialling and operator codes.
Contact details for the Australian Consulate-General in Sao Paulo and the Consulate in Rio de Janeiro can be found in the \'About Us\' section, and contact details for the tourist police in these cities are listed in the 'Where to get help' section of the Australian Government's travel advice for Brazil.
We encourage all Australian travellers and residents in Brazil to:
Registering with the Australian Embassy in Brazil is very important. This information will help us to contact or find you in an emergency - whether it is a natural disaster, civil disturbance or family emergency. It may also be used to pass other information to you such as important travel advice updates, notice of elections and information on other matters relevant to travellers and expatriates.

To get the latest information about travelling and living in Brazil, read the:

Lost or Stolen Passports
Has your Australian passport been lost or stolen in Brazil? Report it online or to the Embassy (contact details above). You may need to obtain an Australian passport in Brazil. More information is available on the Australian Passports Office website.