Past Events
Lunch in honour of the International Women's Day – 13 March 2019
As part of International Women's Day celebrations, the Ambassador Timothy Kane was pleased to have Prosecutor General Raquel Dodge as guest of honour and other guests for a lunch at the Embassy. They discussed innovative ways to promote gender equality, the empowerment of women and the end of gender violence.
Among the guests were representatives from the Ministry of Human Rights, UN Women, Brazil's justice sector and NGOs supported by the Australian Direct Aid Program that work with women's empowerment and gender equality in Brazil.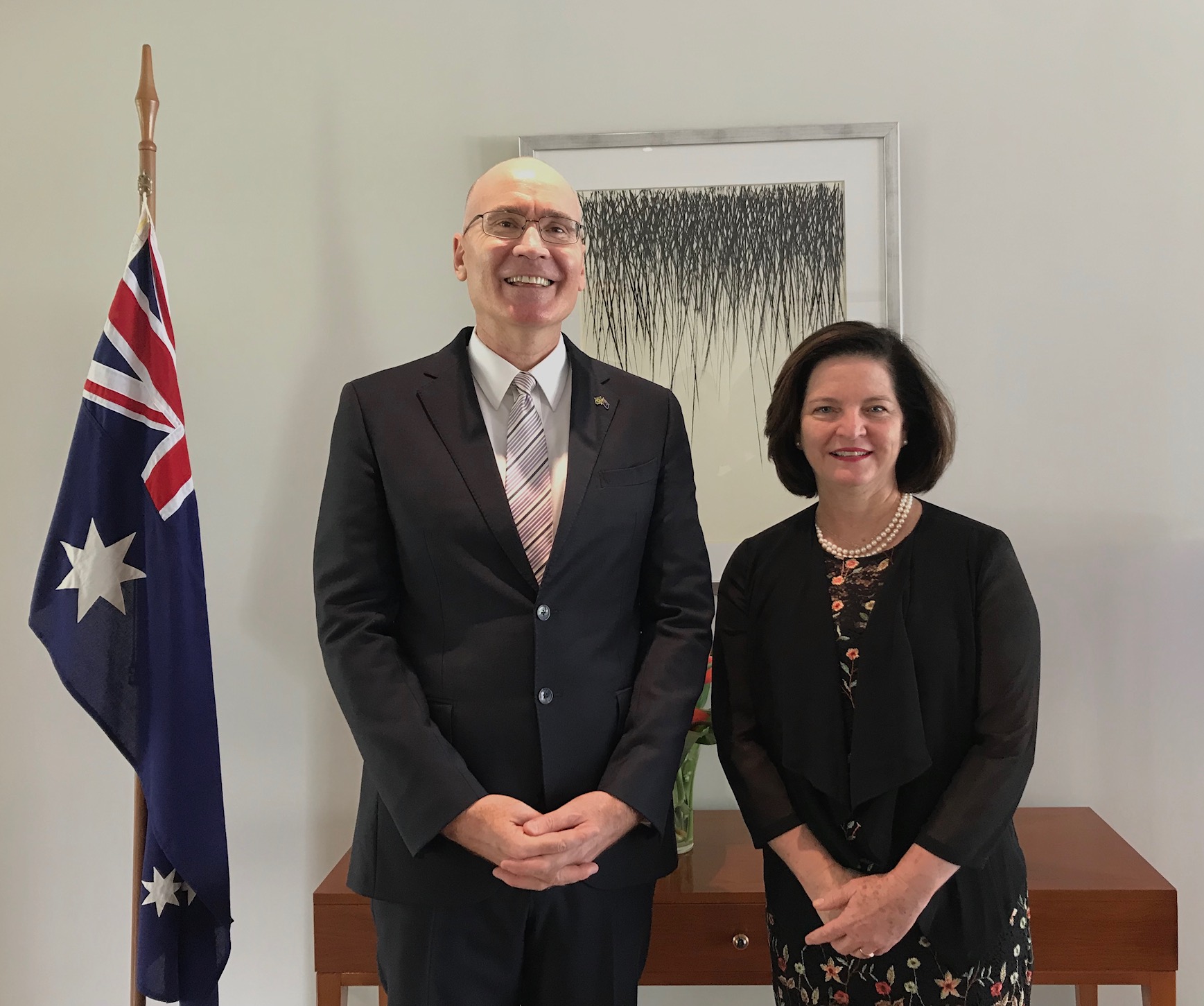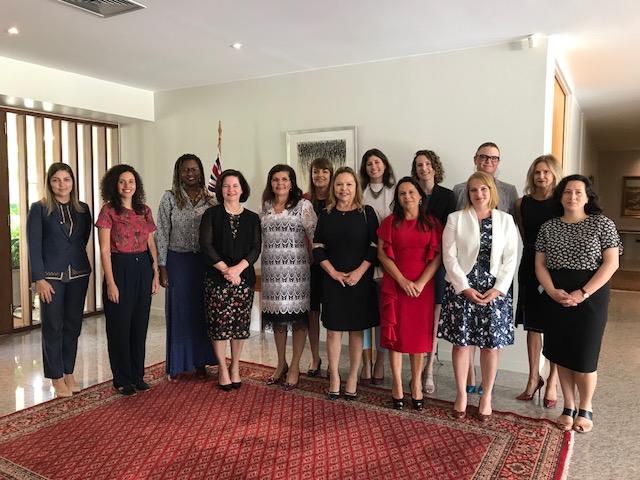 Signing ceremony of the MOU between CSIRO and Embrapa - 12 March 2019
On 12 March, the Australian Ambassador to Brazil, Timothy Kane, attended the signing ceremony of the Memorandum of Understanding (MOU) between CSIRO - Australia's National Science Agency and Embrapa - Brazilian Agricultural Research Corporation. In the occasion, the Ambassador and the President of Embrapa, Sebastião Barbosa, signed a MOU to increase collaboration between institutions and explore solutions to solve agricultural challenges and improve the quality of life of Brazilians and Australians.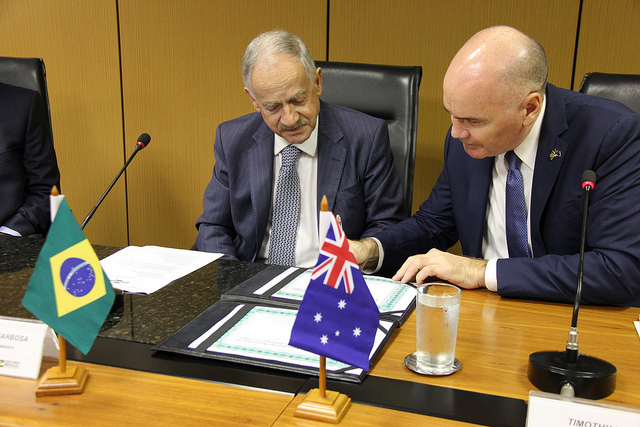 President of Embrapa, Mr. Sebastião Barbosa, and the Australian Ambassador to Brazil, Mr. Timothy Kane.
Visit to Embrapa Genetic Resources and Biotechnology (Cenargen) - 6 February 2019
On 6 February, the Australian Ambassador to Brazil, Timothy Kane, visited Embrapa Genetic Resources and Biotechnology (Cenargen). At the meeting he met the Director General of Cenargen, Dr. José Manuel Cabral de Sousa Dias, the Deputy Director of Research, Dr. Marilia Lobo Burle, and Embrapa researchers who have studied in Australia.
Embrapa has the largest Genetic Bank in Latin America and among more than 800 species of its collection, houses 35 species of plants native to Australia. On the occasion, the Ambassador received as gifts two Brazilian tree seedlings, the Mahogany from the Amazon, and the Tamboril from the Cerrado.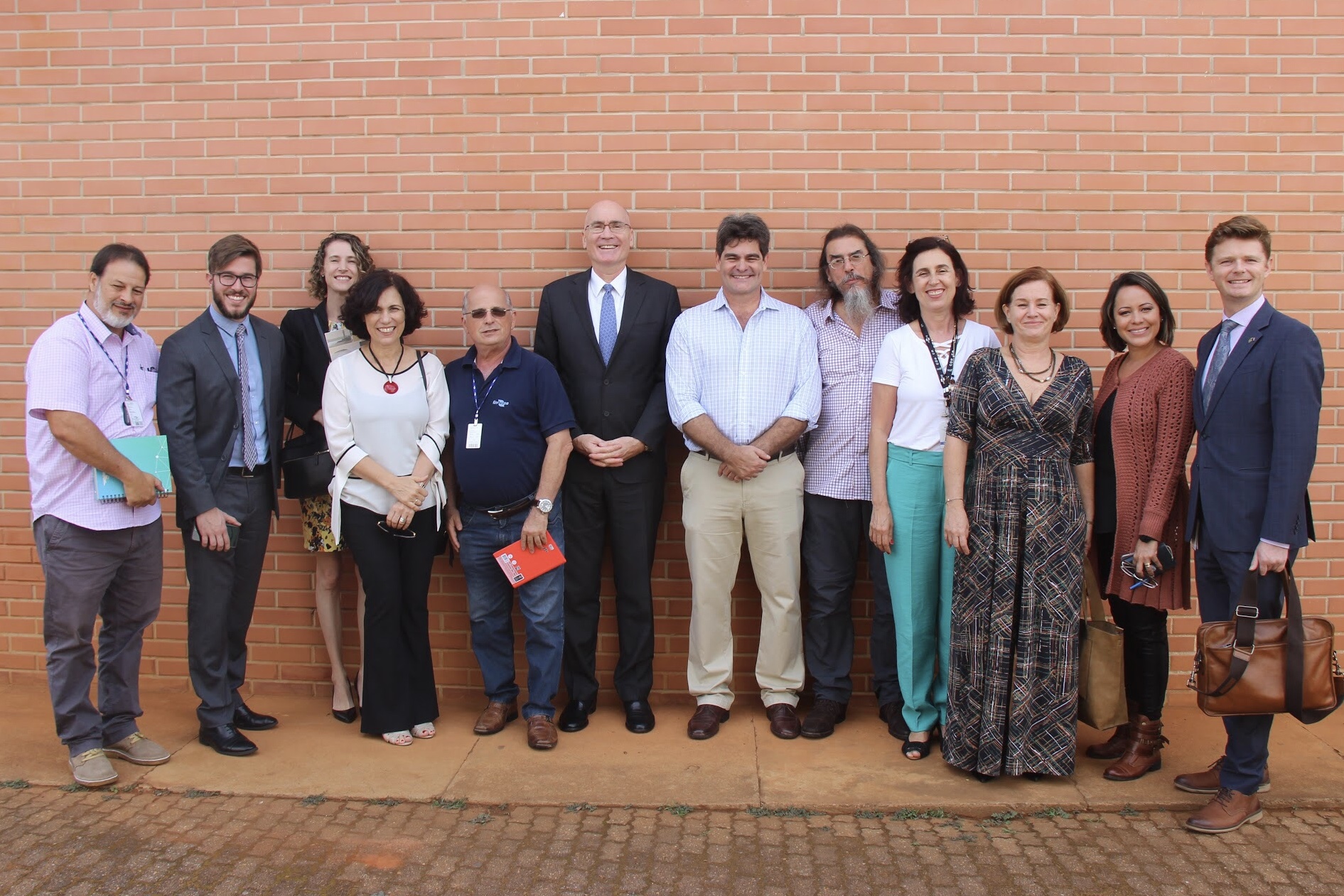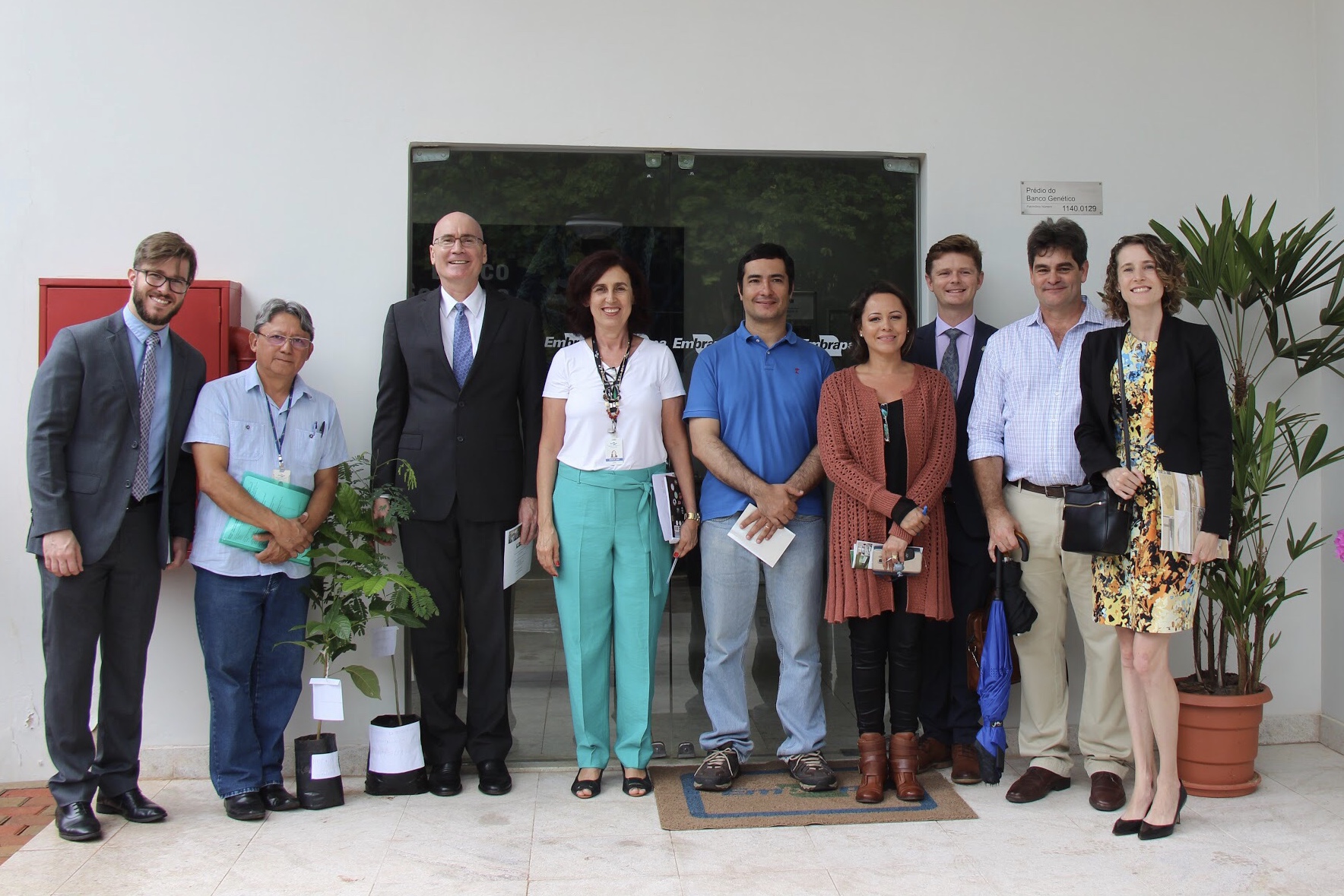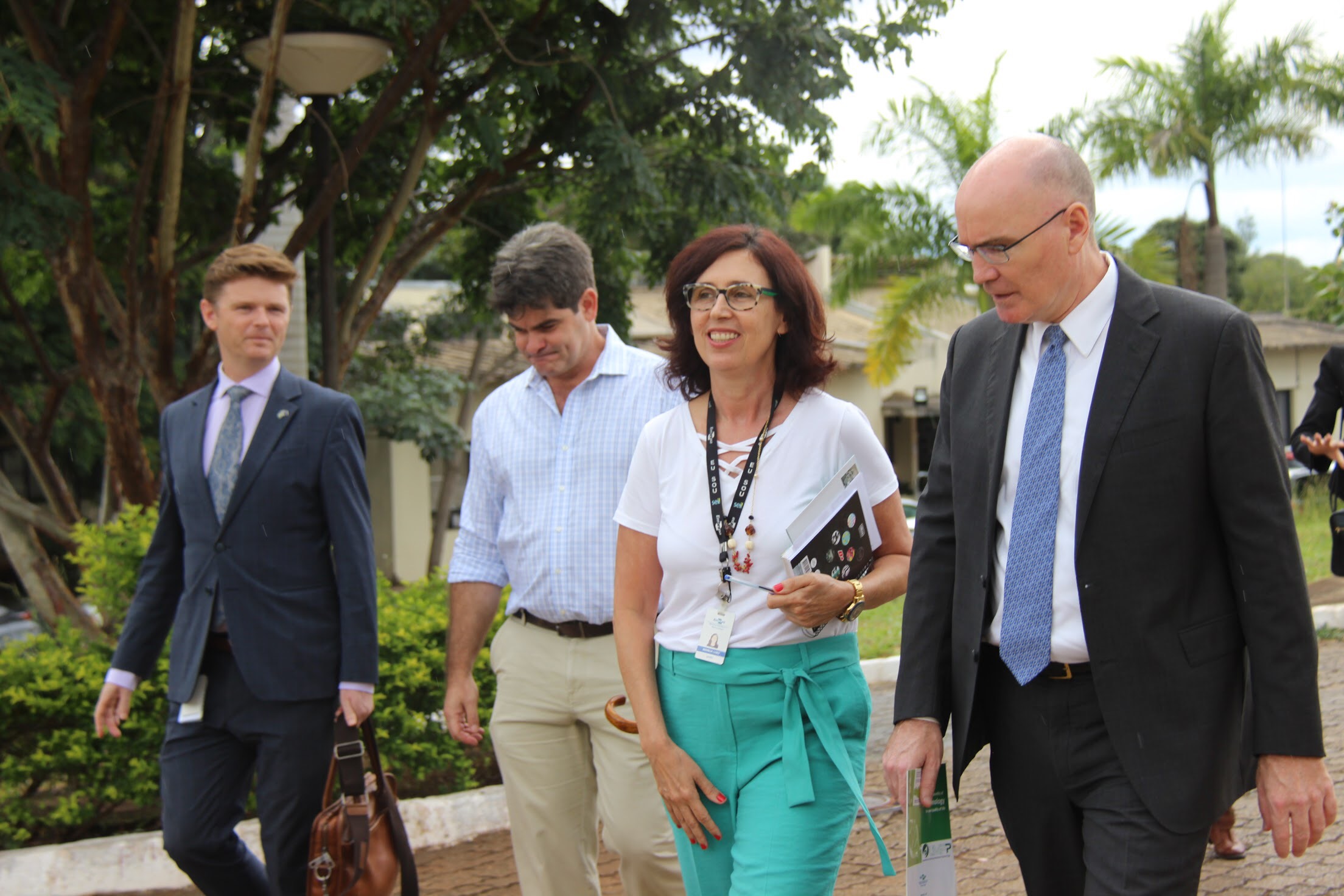 Asia and Oceania group meeting - 2019
A pleasure to host on 30 January, and a great discussion with, Asia and Oceania ambassadorial colleagues and our guest of honour, Ms Joana Pereira, Representative of the International Monetary Fund for Brazil.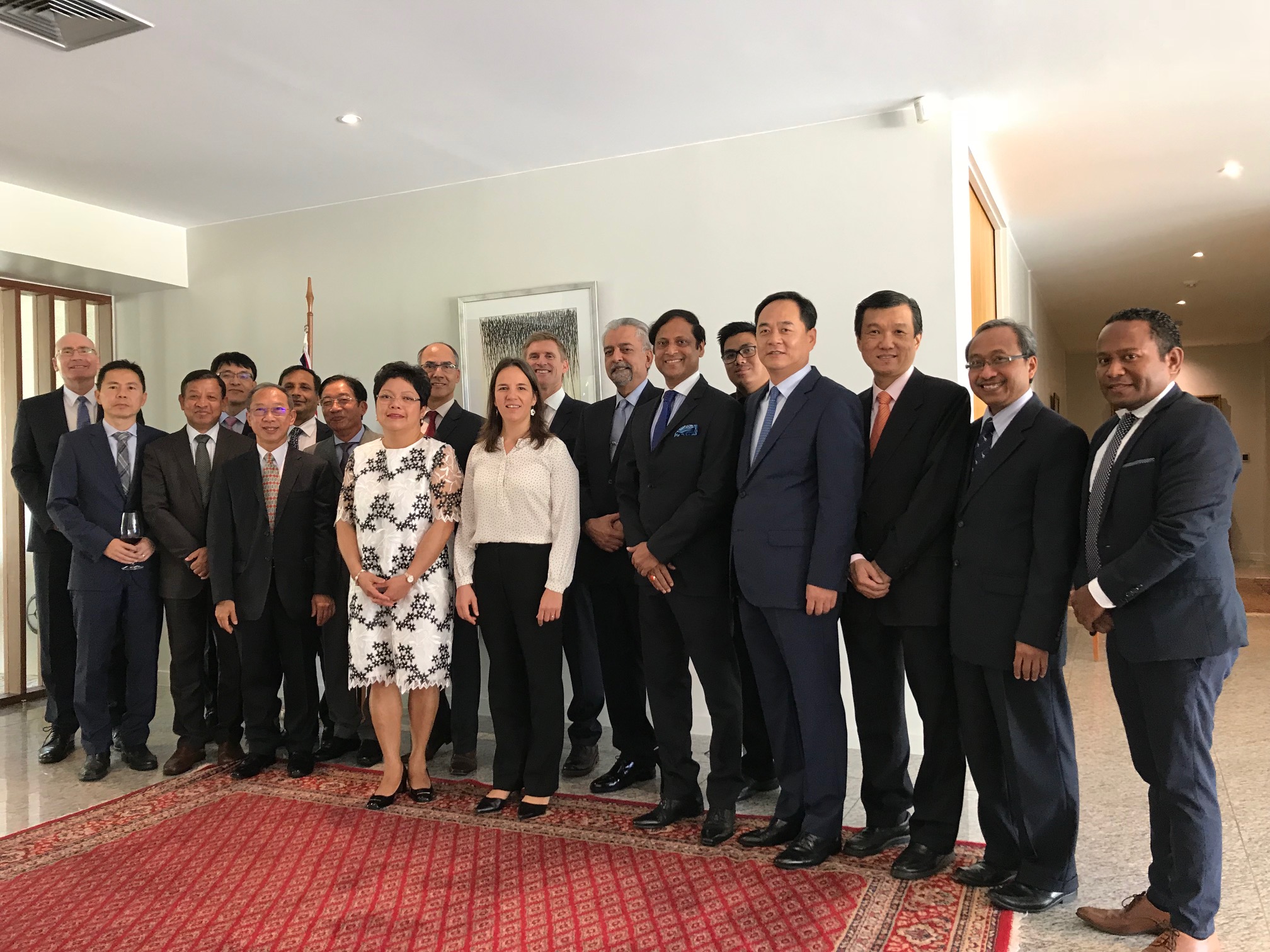 Cricket Ball 2018, Brasilia
On August 4, several guests attended the charity ball promoted by the Australian and the UK Embassies in Brazil. The event was an incentive to cricket practice in Brazil, this sport already well known by Aussies and British.
Every year the Australian and UK Embassies hold this charity event, where after a cricket match they celebrate with a ball in one of the official residences and the money collected is reverted to encourage the sport in Brazil. Currently the largest cricket project in Brazil is in Minas Gerais, where 1250 children from public schools have the opportunity to practice the sport. In Brasilia, there are projects with children from Sao Sebastiao and other areas of the Federal Capital.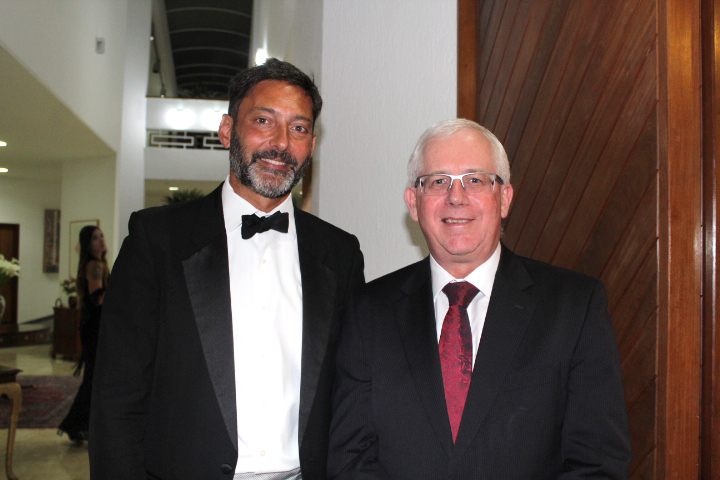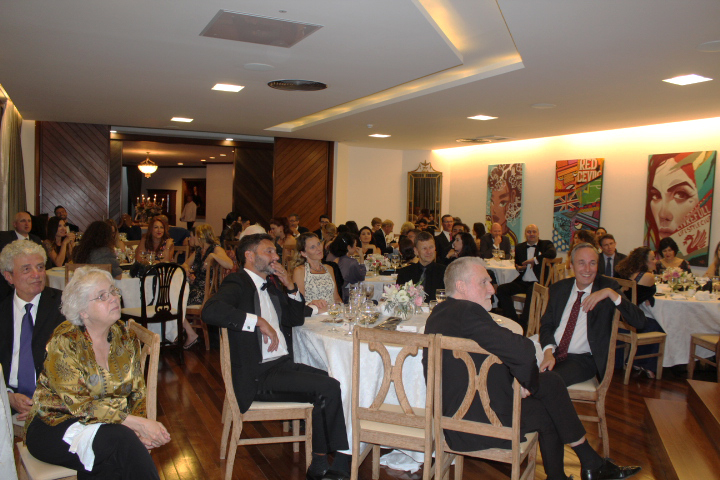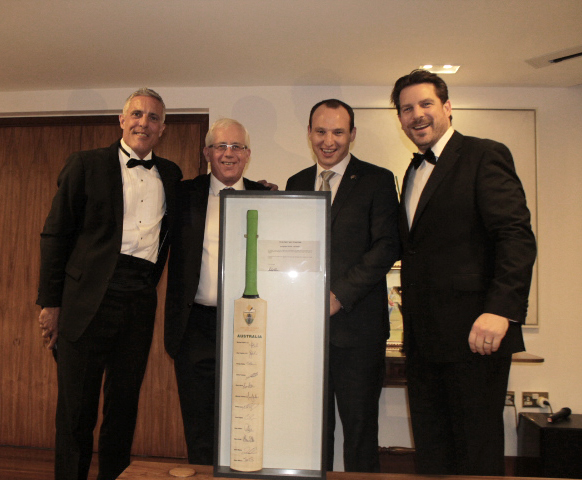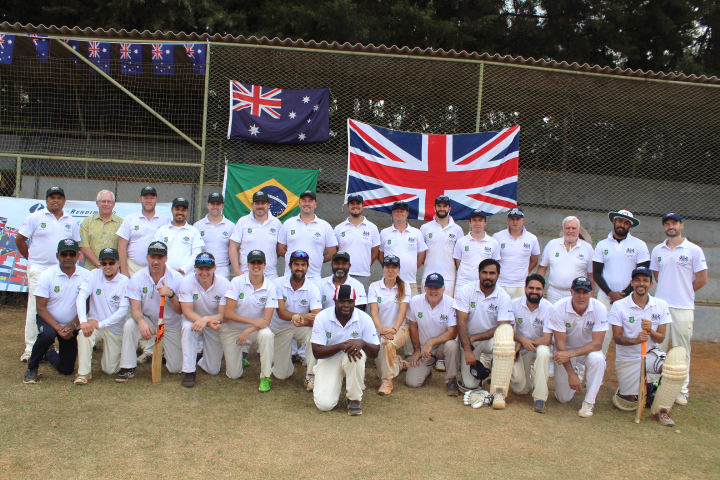 Photos by: Brasilia in Foco.
Top left: The British Ambassador to Brazil, the Hon Vijay Rangarajan (left) and the Australian Chargé D'affaires to Brazil (right) Sr. Peter Doyle at the Cricket Ball.
Top right and bottom left: Cricket Ball at the UK Embassy.
Bottom right: Cricket match between the Australian and British teams.
Australian Agriculture and Water Resources Minister visits Sao Paulo - 23 July 2018
Australian Agriculture and Water Resources Minister, the Hon David Littleproud MP visited Brazil to strengthen our flourishing bilateral agribusiness relationship and agricultural research and development cooperation.
As major agricultural producers and exporters, Australia and Brazil cooperate in a range of multilateral fora, including the World Trade Organisation, G20 and the Food and Agriculture Organization of the United Nations. Brazil-Australia two-way agricultural trade was valued at $310.7 million in 2017. And both countries benefit from our growing research and development cooperation and innovation in areas such as farming in varied climates, overcoming water scarcity challenges, increasing agricultural productivity and improving sustainability.
Minsiter Littleproud met Brazilian Agriculture Minister Blairo Maggi, participated in the Global Agribusiness Forum (GAF) and met two-way agribusiness investors.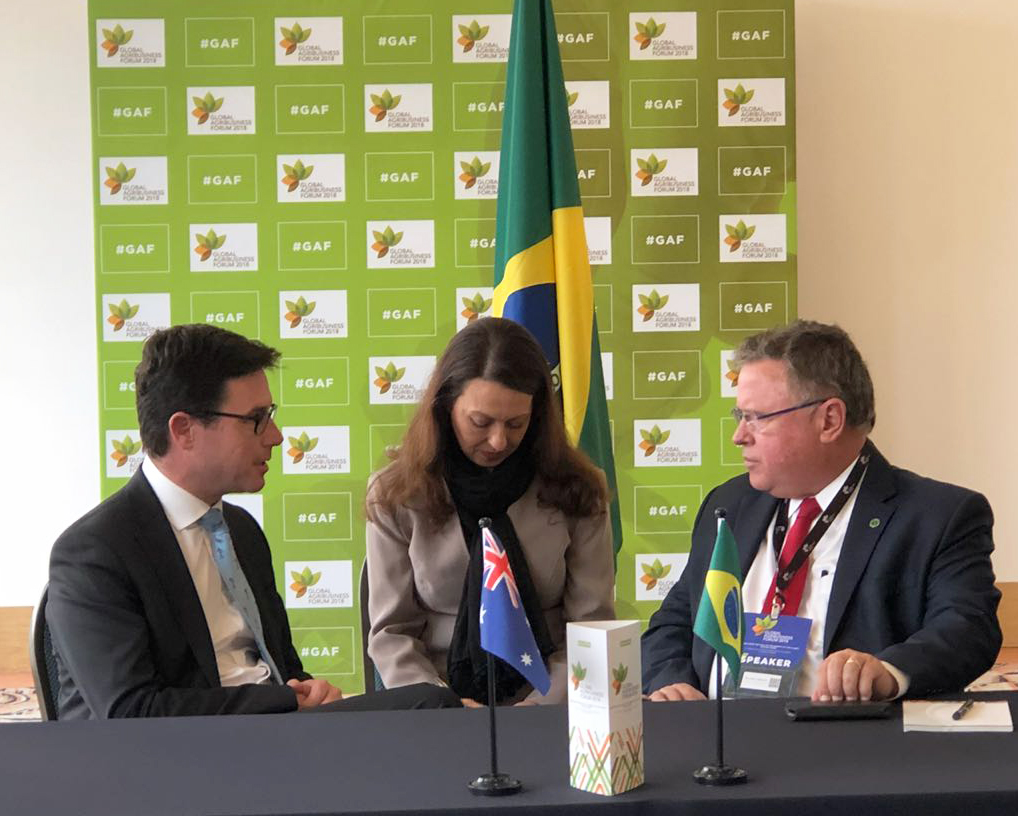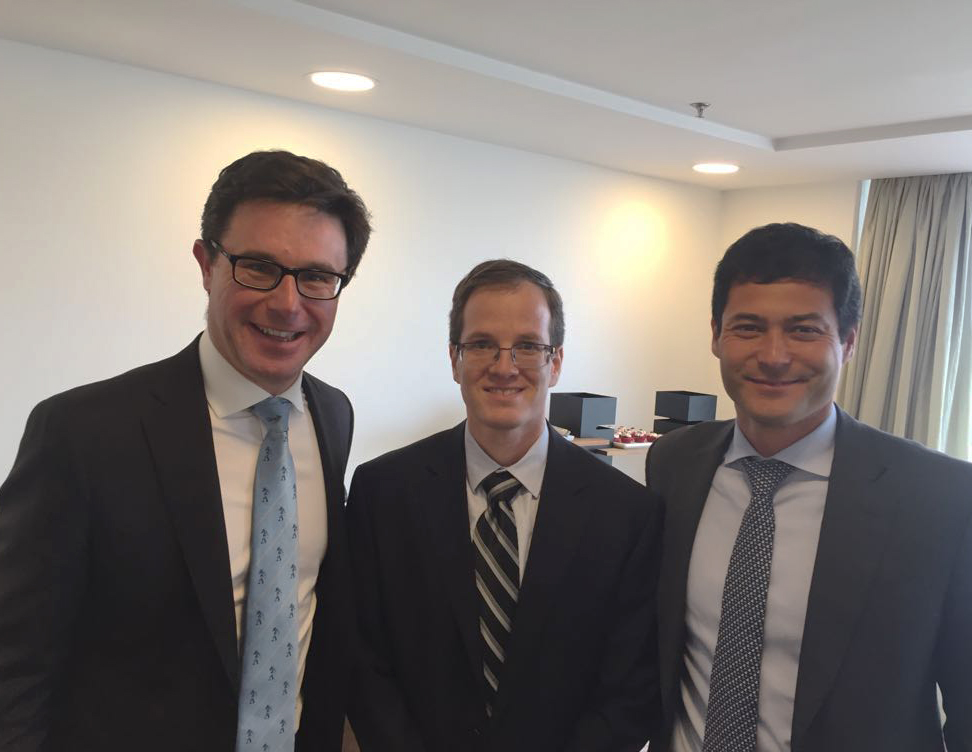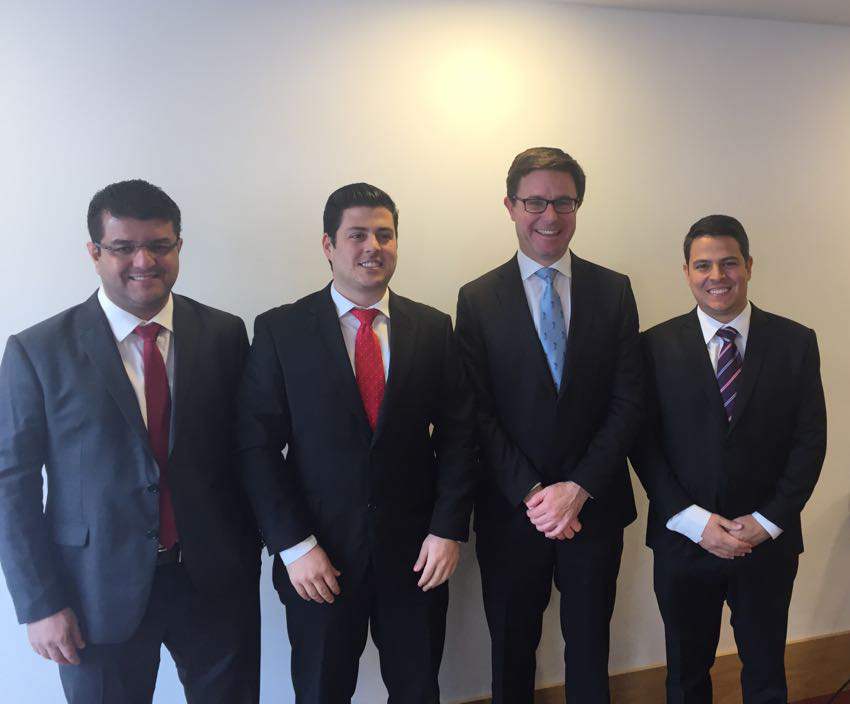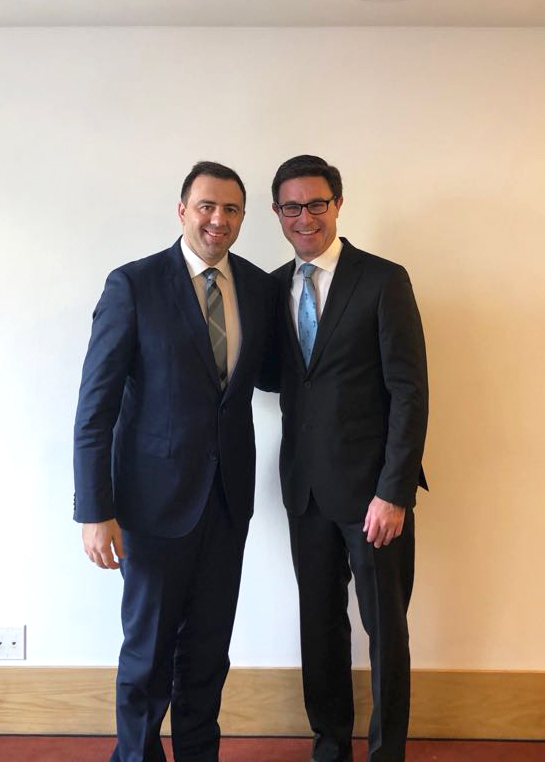 Top left: Australian Agriculture and Water Resources Minister David Littleproud (left) and Brazilian Agriculture Minister Blairo Maggi (right) at the Global Agribusiness Forum.
Top right: Australian Agriculture and Water Resources Minister David Littleproud (left) meeting Macquarie Brazil Associate Director and Executive Director, Michael Feibelmann and Hitoshi Castro.
Bottom left: Australian Agriculture and Water Resources Minister David Littleproud (third left) meeting JCN Group Directors, Mr Kriss Corso, Mr Kaio Corso and Mr Josue Corso.
Bottom right: Australian Agriculture and Water Resources Minister David Littleproud (right) meeting ECB Group CEO Erasmo Battistella.
Anzac Day 2018, São Paulo
This year is the 103rd anniversary of the ANZAC landing at Gallipoli in Turkey, once the land of our enemy; now the home of our friend. On 25th April each year, Australians and New Zealanders gather in all parts of the world to commemorate the memory and the meaning of Anzac Day at ceremonies such as the dawn service in Sao Paulo's magnificent cenotaph. We meet, not to glorify war or praise victors, but to remember those who have served our countries during times of conflict and crisis, and to reflect upon their selfless sacrifice. We honour a triumph of the human spirit; courage, solidarity, resilience and mateship. We honour the values for which they fought: freedom, democracy and the rule of law. We commit to forging a stronger, safer world. Together.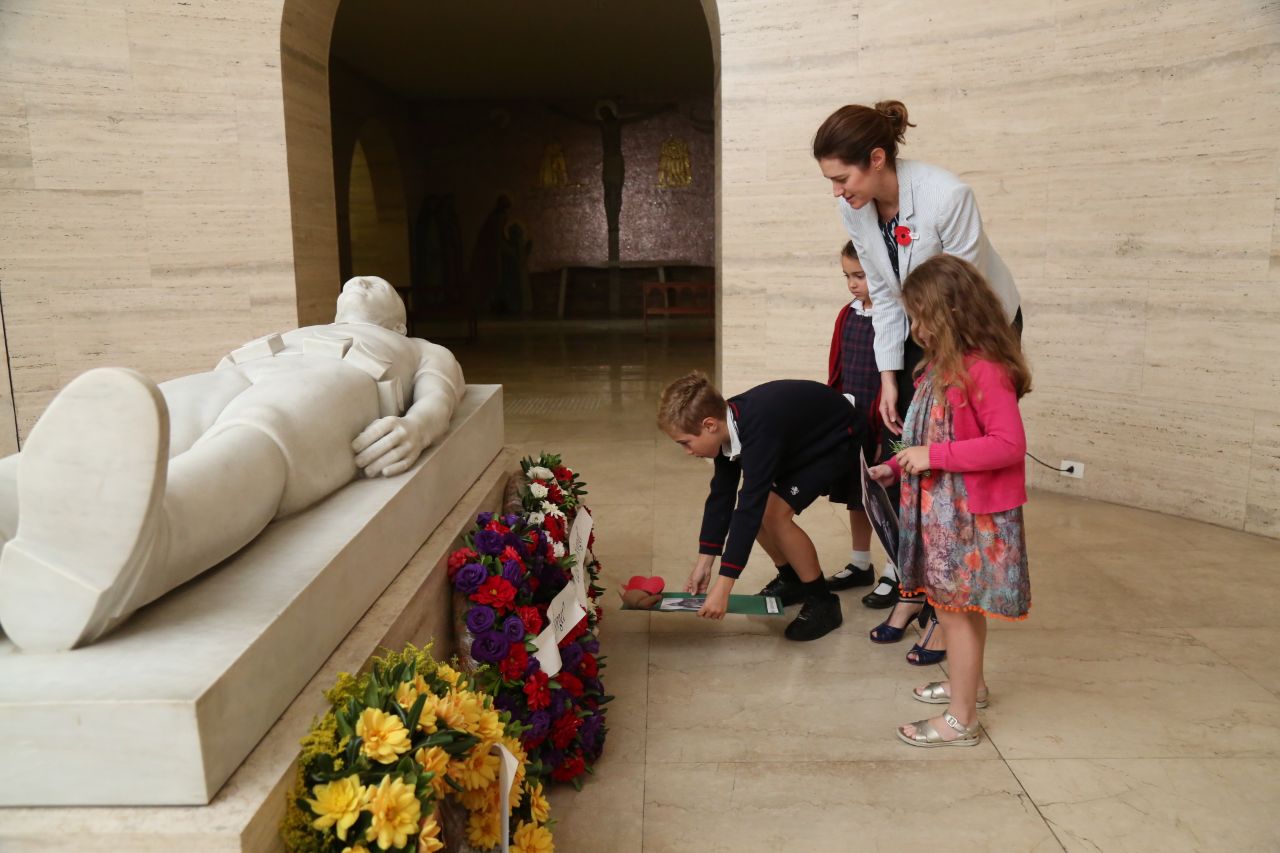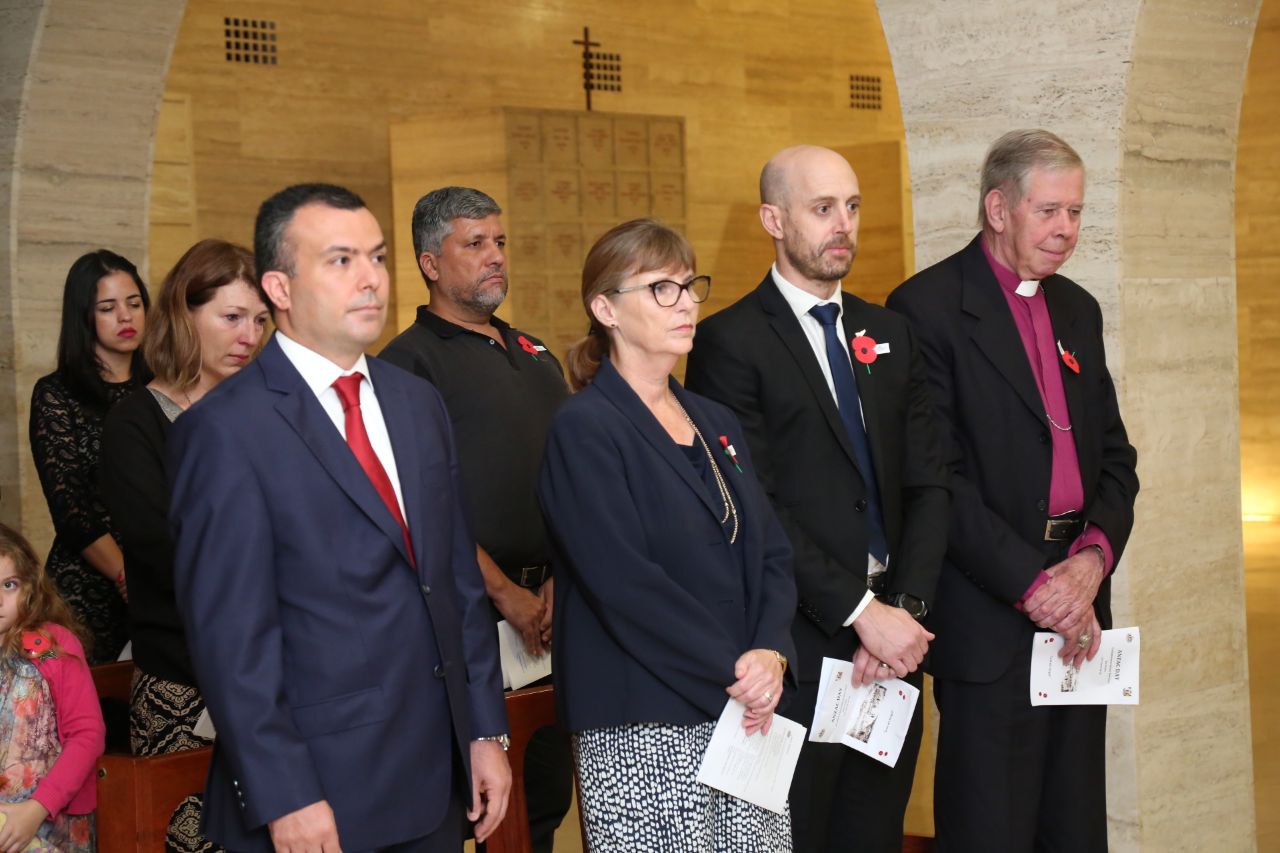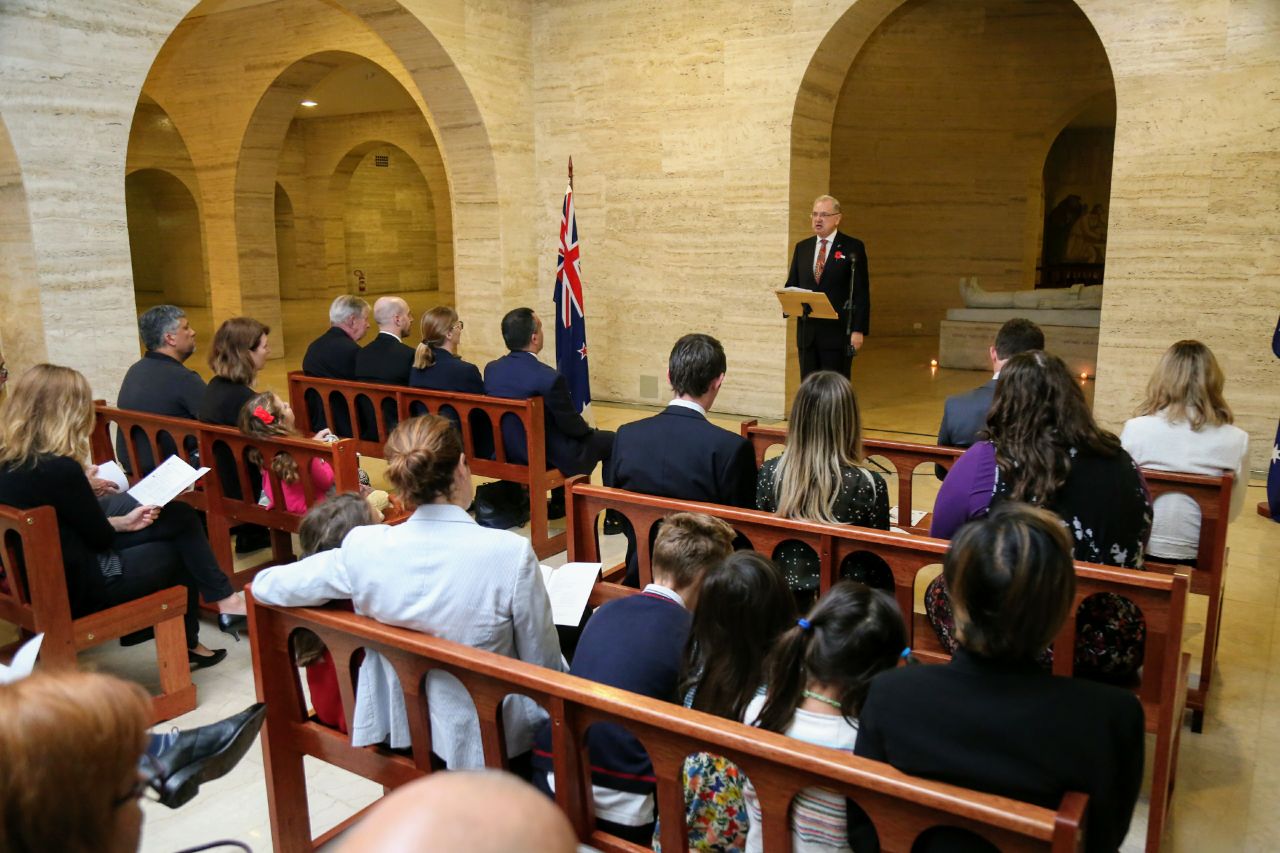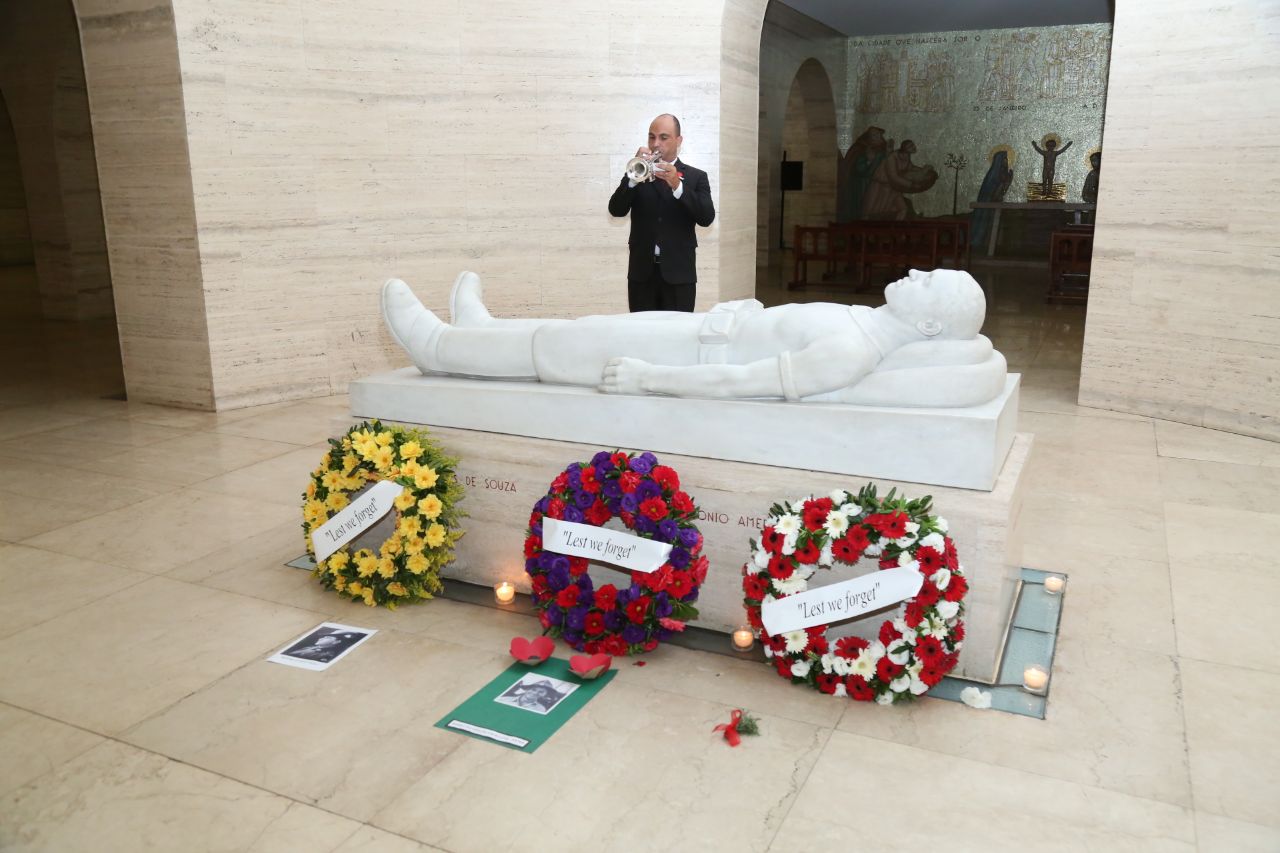 Australian Parliamentary Delegation, 8-11 April 2018, Rio de Janeiro and Brasilia
During its visit to Brazil (Rio de Janeiro and Brasília), the Australian Parliamentary Delegation met with the Brazilian Congress, Australian companies in Brazil and civil society. The delegation attended a series of meetings related to health, education, budgets and taxation, intra-governmental relations, parliamentary processes, Brazil's economic reform agenda and security. The delegation led by Australian Senate President Scott Ryan and consisting of Senators David Bushby and Alex Gallacher and MPs Julie Collins, Matt Thistlethwaite and Andrew Laming met with with representatives from CNPq, the Brazilian Ministry of Agriculture and Nuffield International Research Fellows at a reception at the Australian Embassy. In Rio de Janeiro, the delegation met with the World Mosquito Program and in Brasilia with Brazilian parliamentarians in the National Congress and with the Minister of Planning. These meetings promote positive cooperation and outcomes, between both the Parliaments and the people of Australia and Brazil.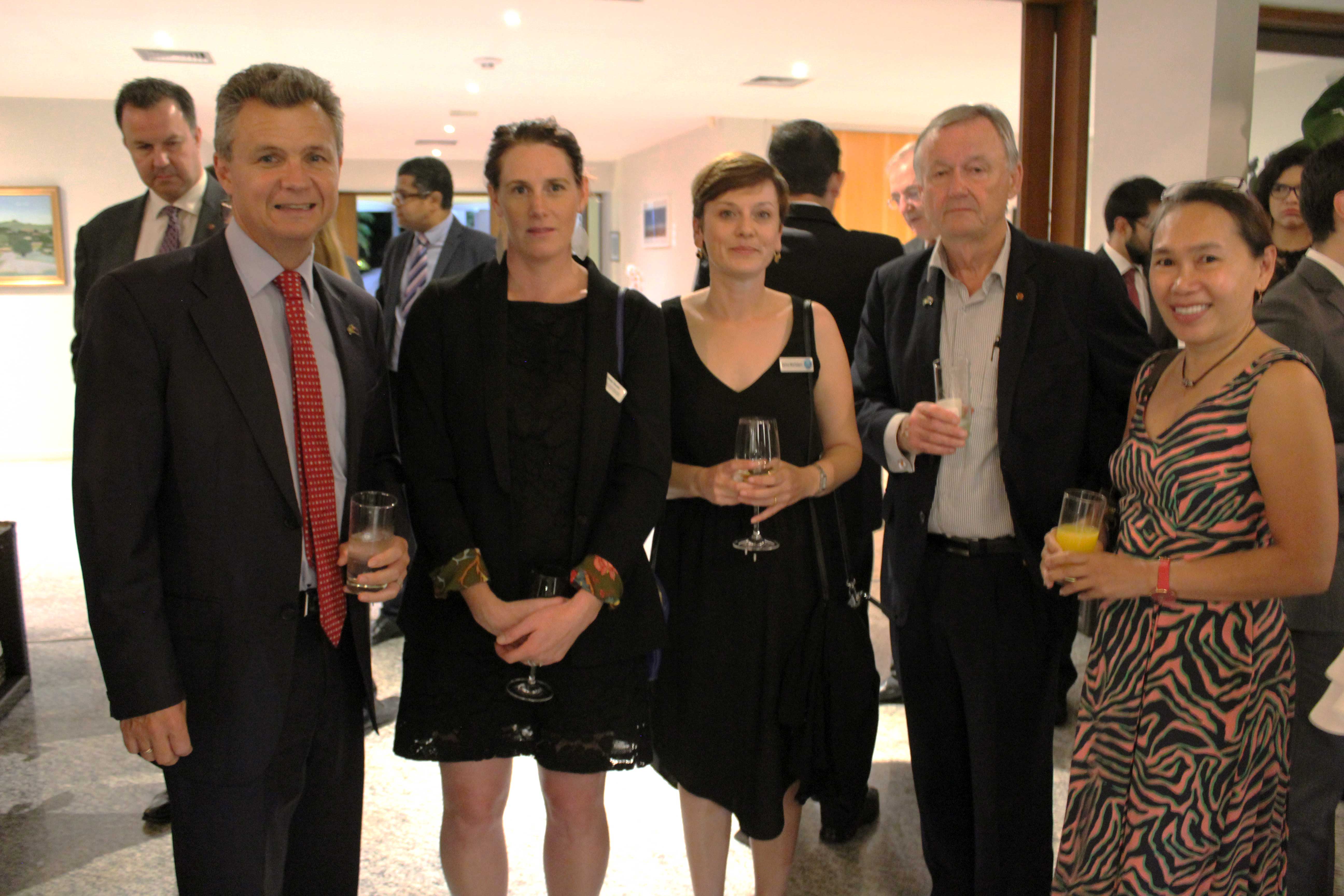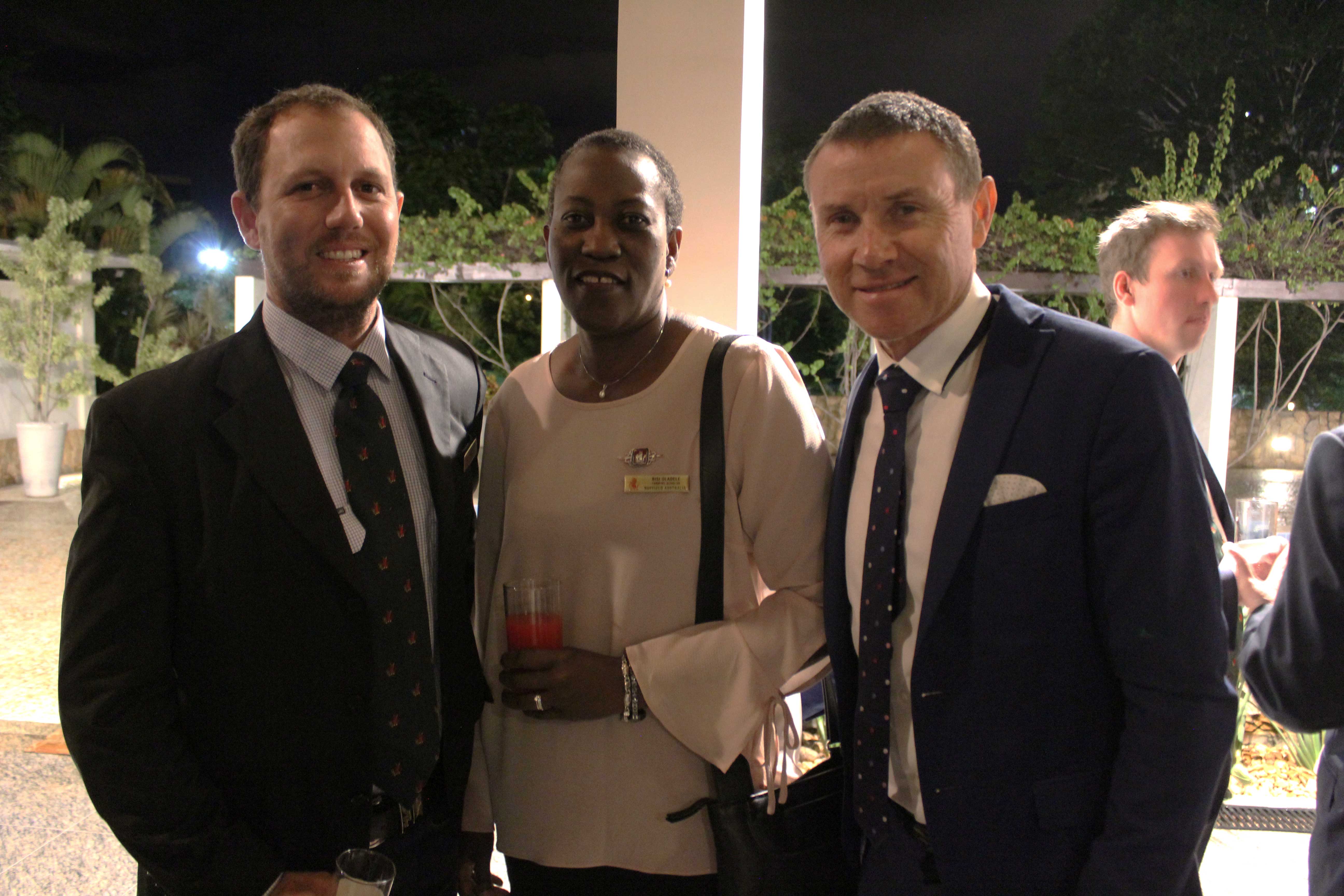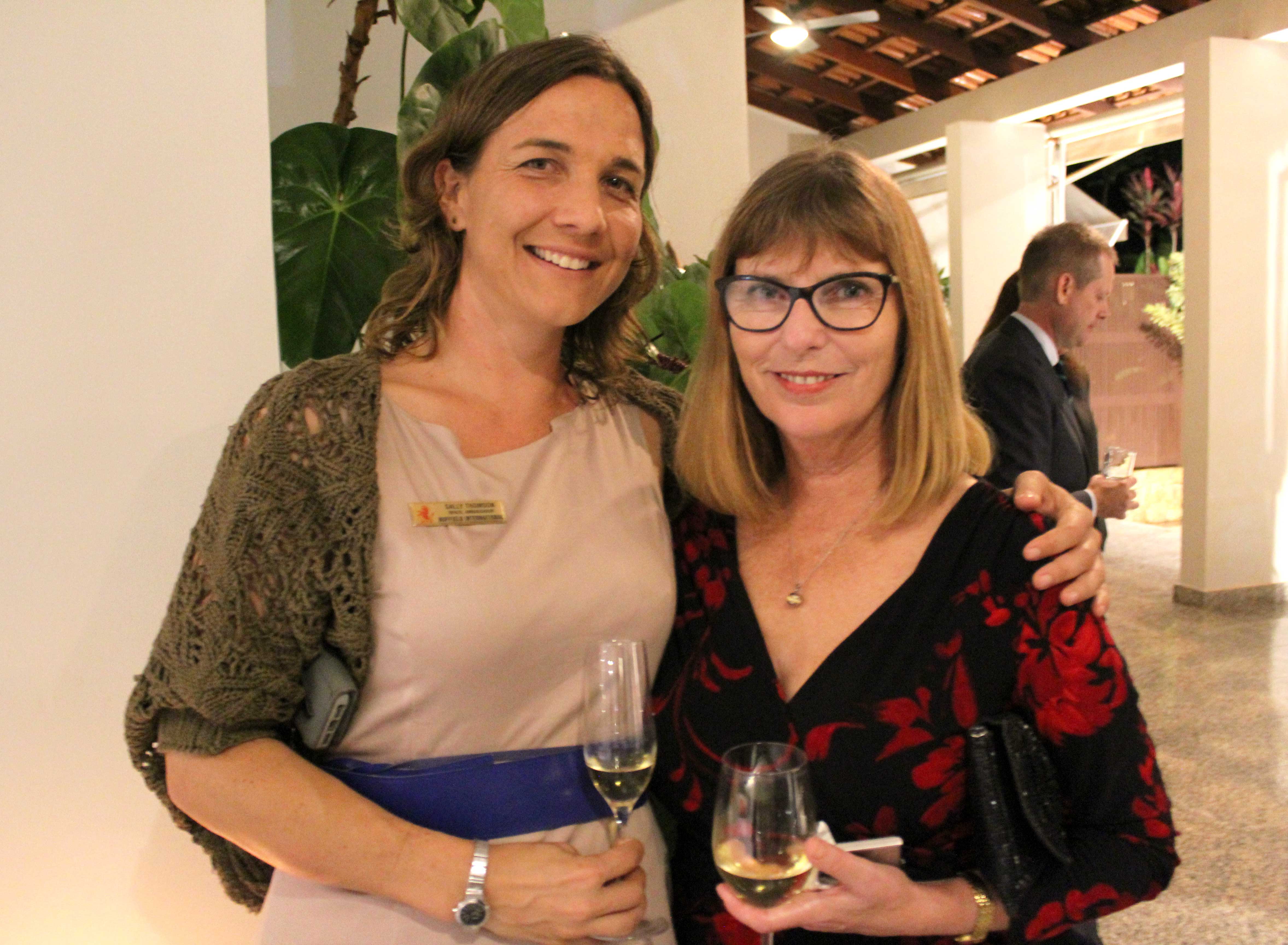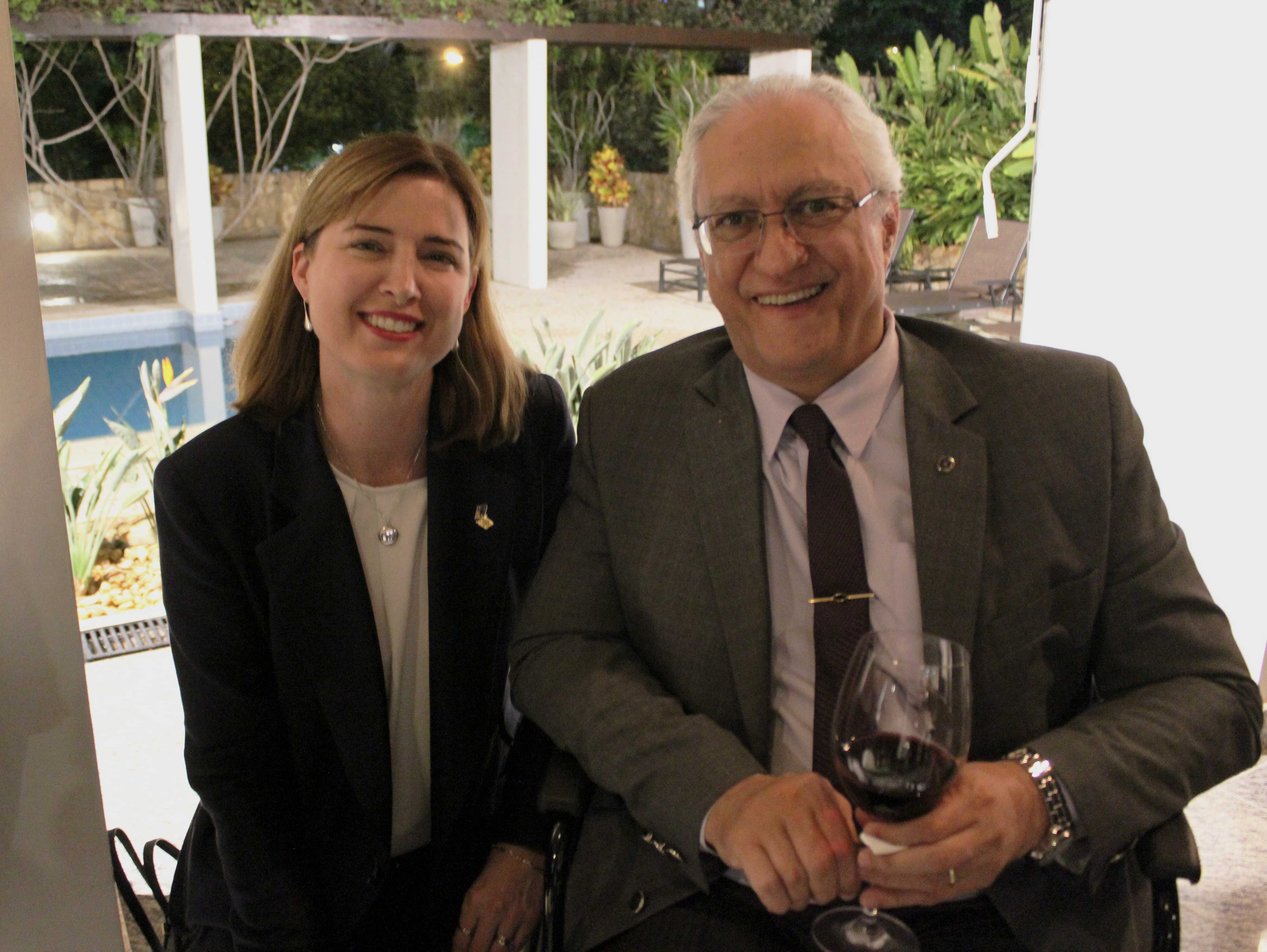 Top left; top right; bottom left; bottom right: Reception at the Australian Embassy to celebrate the Australian Parliamentary Delegation visit to Brasilia.
World Water Forum, 18-23 March 2018, Brasilia
Australian water experts from the Department of Foreign Affairs and Trade, Department of Agriculture and Water Resources, the Bureau of Meteorology, the Murray Darling Basin Authority, civil society and the private sector participated in the 8th World Water Forum in Brasilia, including by presenting on several high level panels.
Australian Prime Minister Malcom Turnbull was one of 11 Heads of State or Government on the UN World Bank High Level Panel on Water; a global effort aimed at championing a comprehensive, inclusive and collaborative way of developing and managing water resources, and improving water and sanitation related services. On 20 March, the Australian Embassy hosted a reception with political leaders, water experts, senior officials, civil society and public sector partners to celebrate the launch of the HLPW Outcomes Report – Every Drop Counts. The report considers how water management is central to health, education, poverty, environmental and other Sustainable Development Goals, and provides an agenda for action to work together to find solutions to global water scarcity. Together, we can fundamentally shift the way the world looks at water.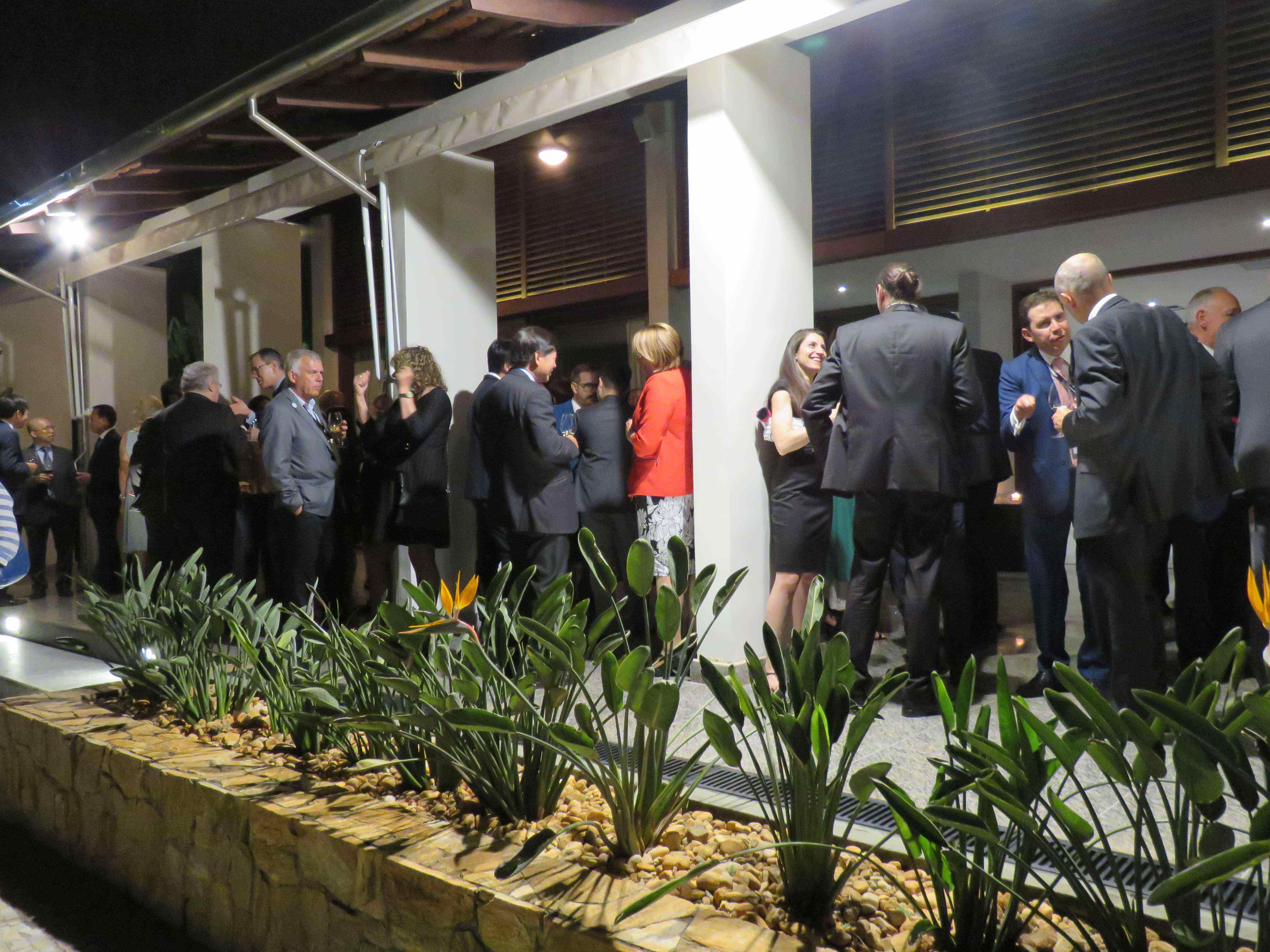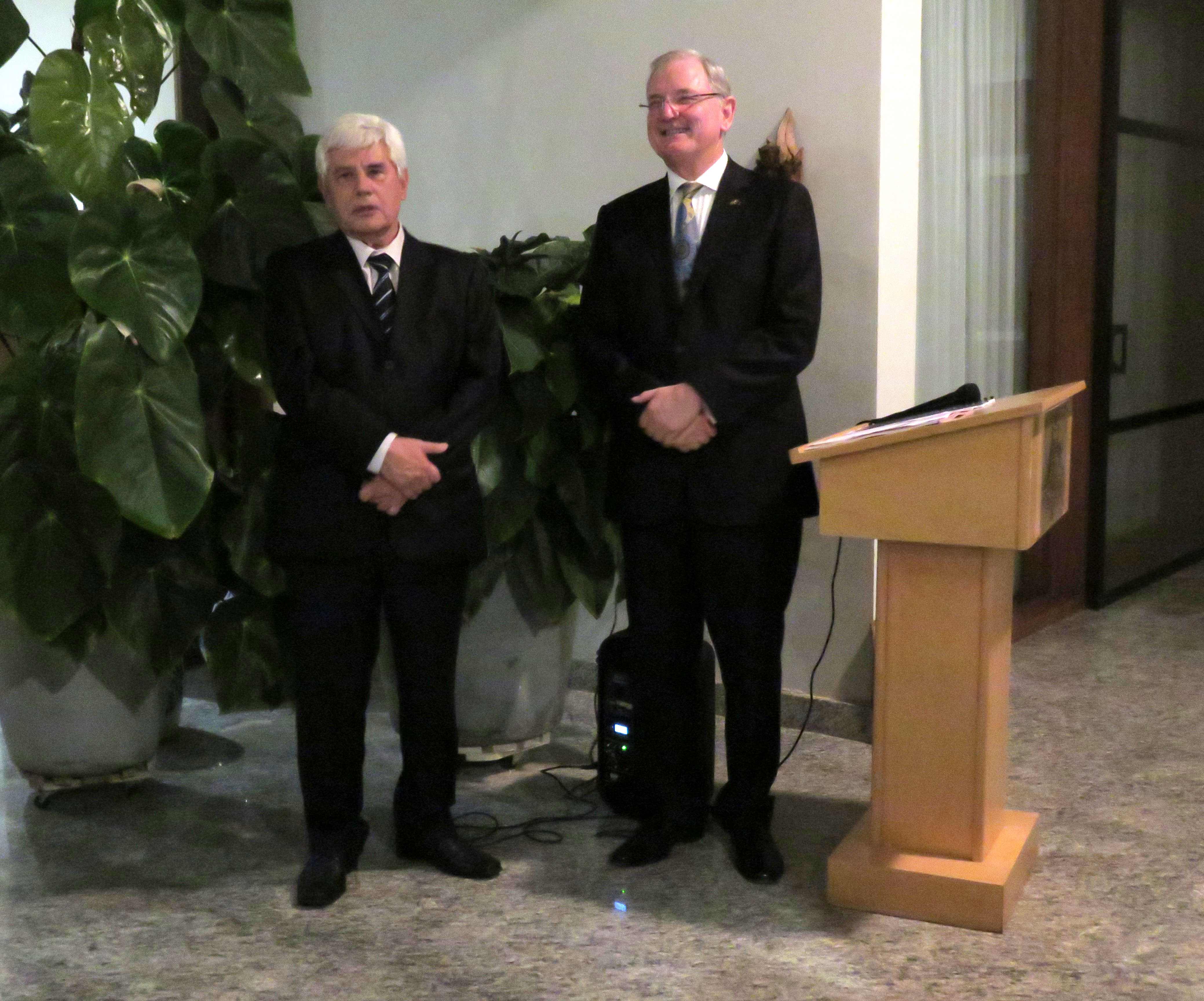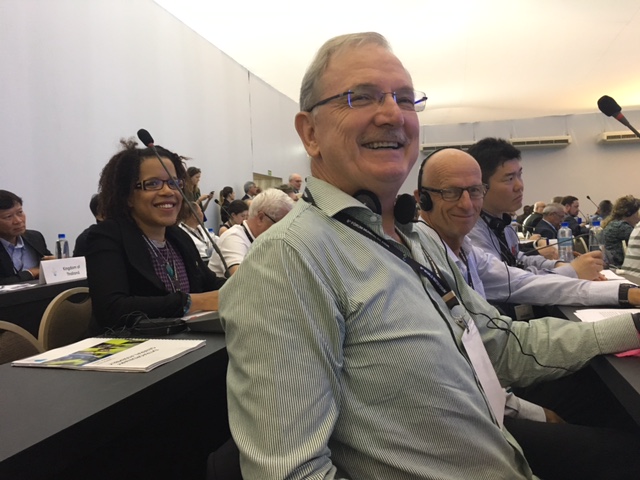 Top left, top right, bottom left: Reception at the Australian Residence to celebrate the work of the UN World Bank High Level Panel on Water, 20 March 2018.
Bottom right: Australian Ambassador H.E. John Richardson; DFAT Special Advisor on Water, Tony Slatyer; and Second Secretary Abigael Ogada-Osir at negotiations for the 8th World Water Forum Political Declaration on Sharing Water, 18 March 2018.
Australia Day 2018 - Belo Horizonte
To celebrate Australia Day 2018, the Embassy held a reception in Belo Horizonte with our partners from the Federação das Indústrias do Estado de Minas Gerais (FIEMG) and the Brazil-Australia Chamber of Commerce. Over 70 guests from across business, academia, government, research and science joined us to celebrate Australia's national day and contribute to the growing institutional, government and people-to-people links between Australia and the state of Minas Gerais. Thanks for the great turn-out Belo Horizonte, we hope to be back again soon!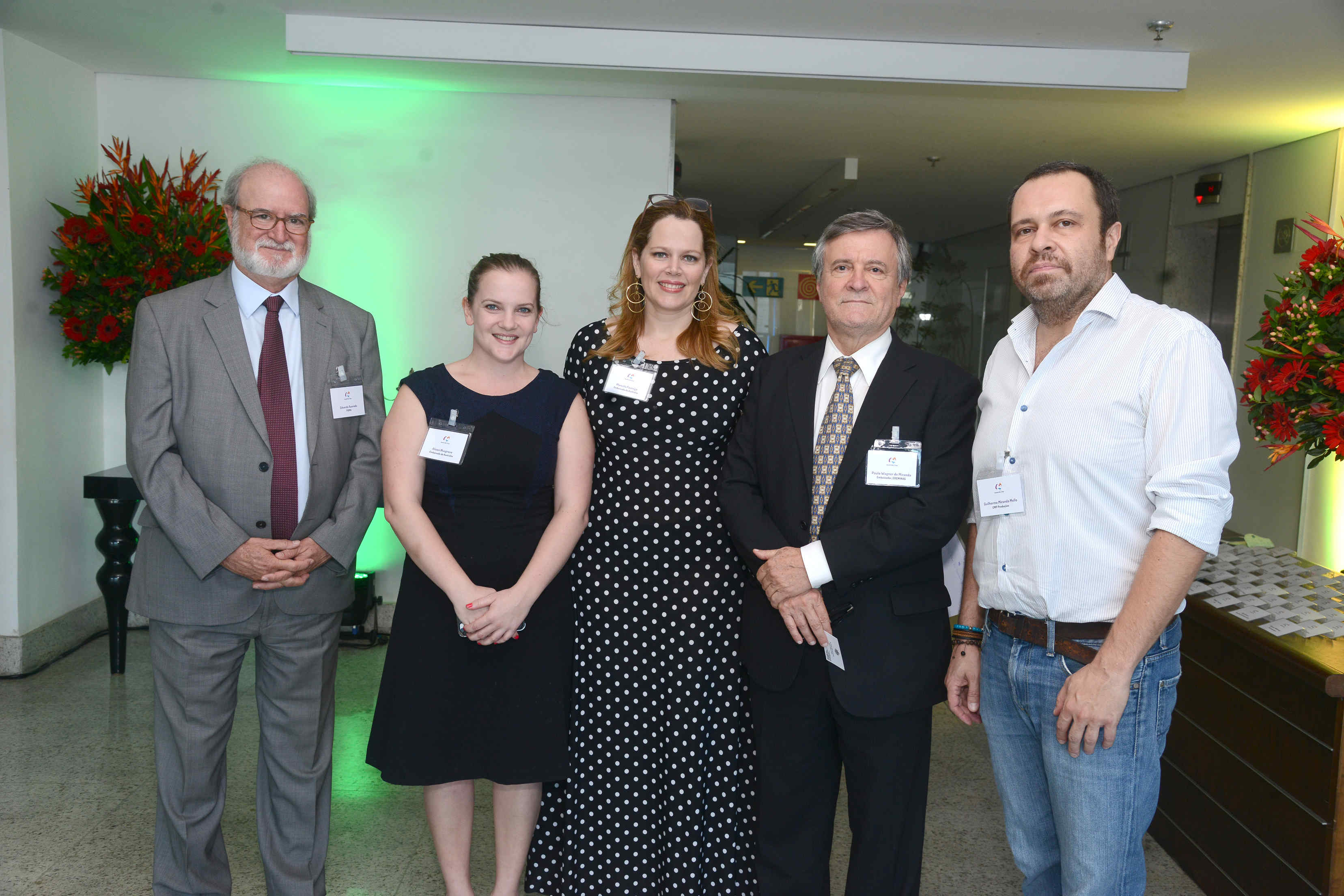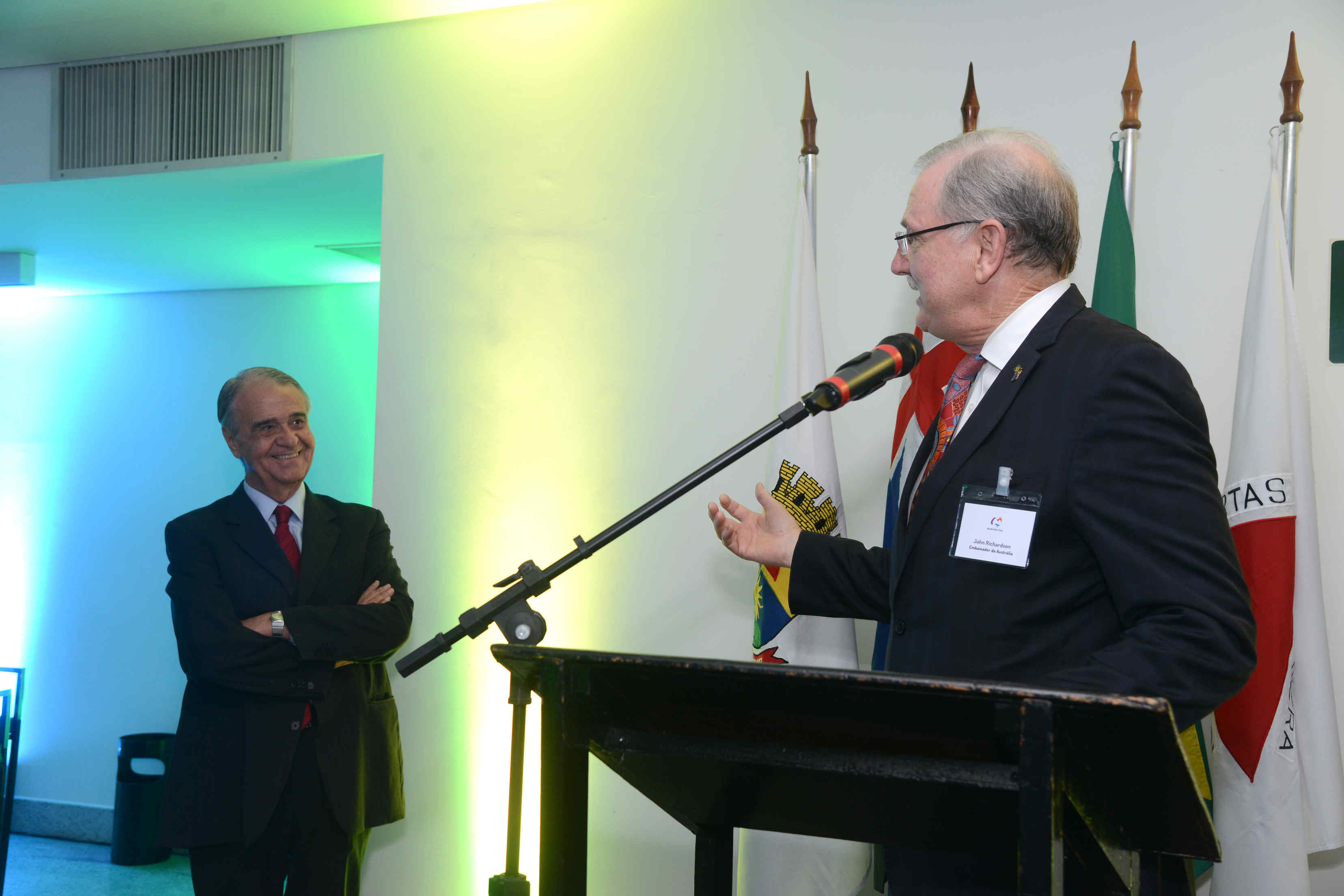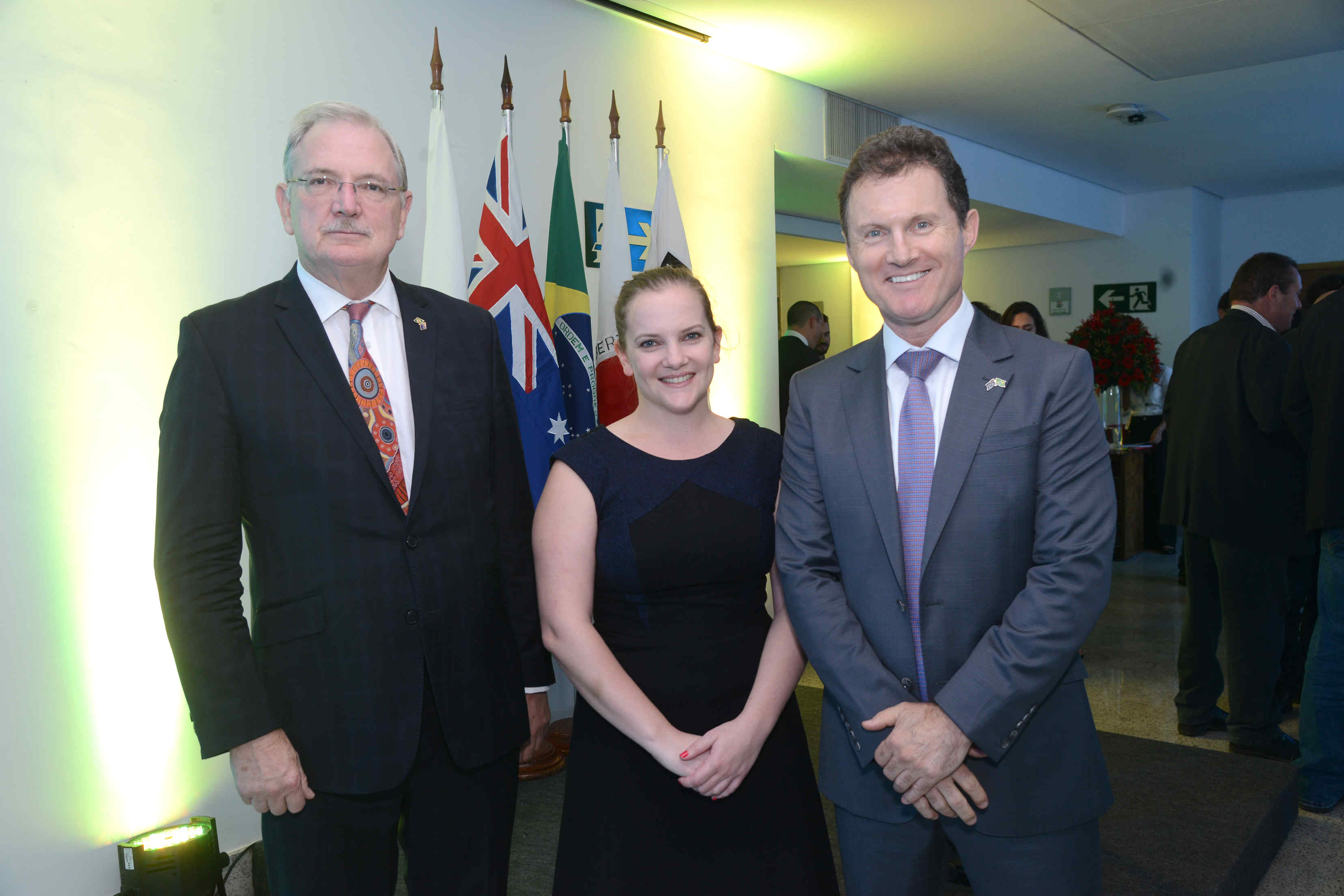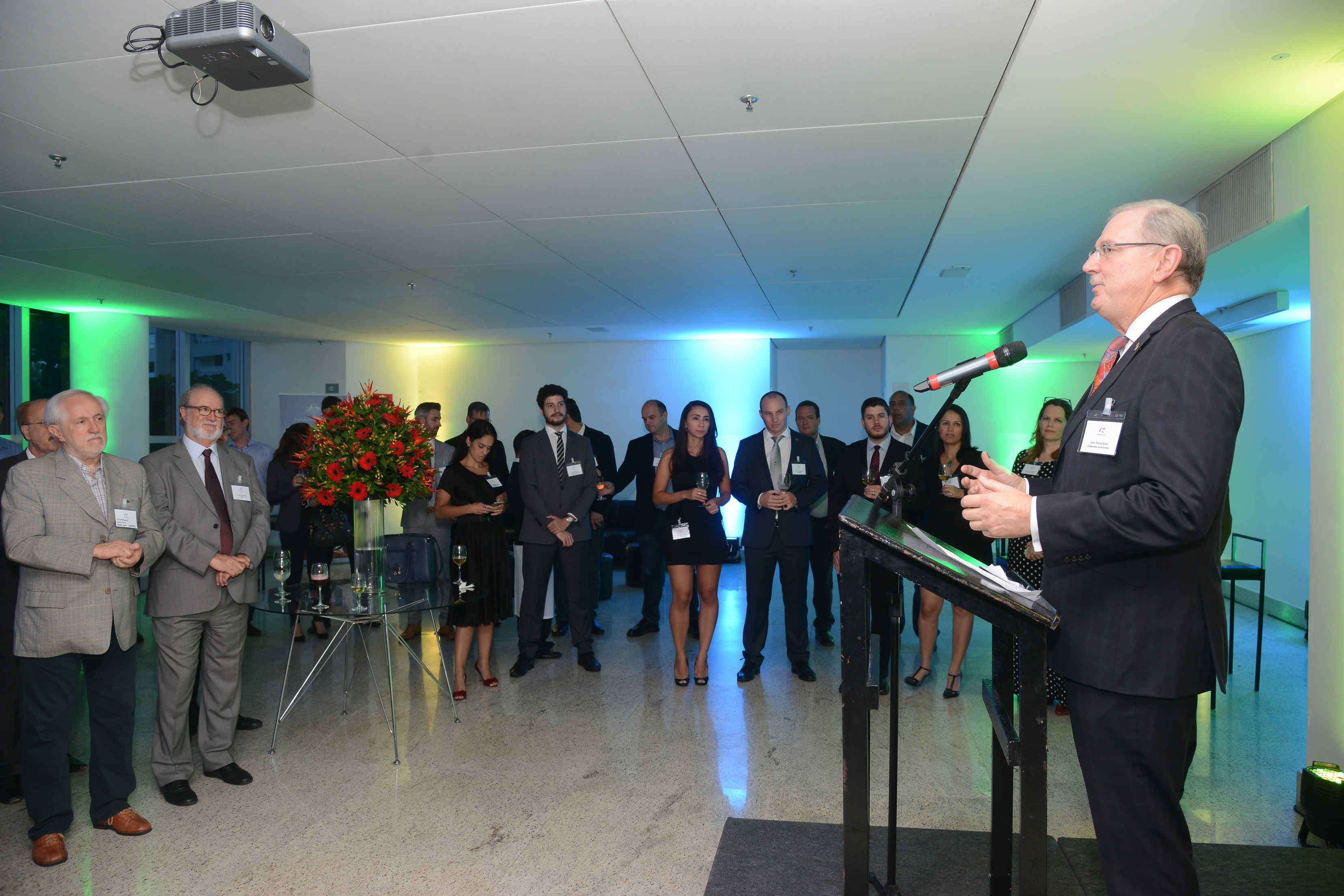 Top left: Honorary Consul Eduardo Brandão de Azeredo (Honorary Consul for South Korea and former Governor of Minas Gerais); Ms Alison Musgrove (Australian Embassy); Ms Marcela Forimga (Australian Embassy); Ambassador Paulo Wagner de Miranda (Ereminas); Mr Guillerme Miranda Mello (CMP Productions).
Top right: Australian Ambassador to Brazil, John Richardson; and Mr Aguinaldo Diniz Filho, Vice-President FIEMG.
Bottom left: Australian Ambassador to Brazil, John Richardson; Second Secretary Alison Musgrove; and Consul-General Greg Wallis.
Australia Day 2018 - Sao Paulo
The State of Sao Paulo is South America's economic heartland; a hub of innovation and industry that is home to approximately 45 million people. Many Australian businesses are present in Sao Paulo, and it was fantastic to celebrate Australia Day 2018 with guests from across business, academia, government, research and science who strengthen the flourishing relationship between Australia and Brazil.

Aussie Pink Lunch
It was great to meet the Força na Peruca wigs truck at the Embassy on 1st September. Pink Ribbon's truck visited us and gave people in Brasilia the chance to learn about their fantastic project and have a lovely lunchtogether. The truck had already travelled through Curitiba and Goiânia, and after Brasilia it will continue its journey in Salvador, Rio and Sao Paulo. In each city Pink Ribbon collects donations of hair to make wigs for cancer patients. The project also teaches people how to make wigs, and teaches entrepreneurship and e-commerce. The wigs made during the course are donated to cancer patients, and after the course the students have a marketable skill to start their own profitable business, thereby increasing competition and reducing the cost of wigs for other cancer patients. The Australian Government's Direct Aid Program provided financial support for this project. Congratulations to the Laço Rosa (Pink Ribbon) Foundation for your incredible work and thank you to the food trucks Téro Cocina, Frooz, Crepe Voyage and Vinny's for participating in this event! Last but not least, thank you to everyone who donated hair and attended the Aussie Pink Lunch event!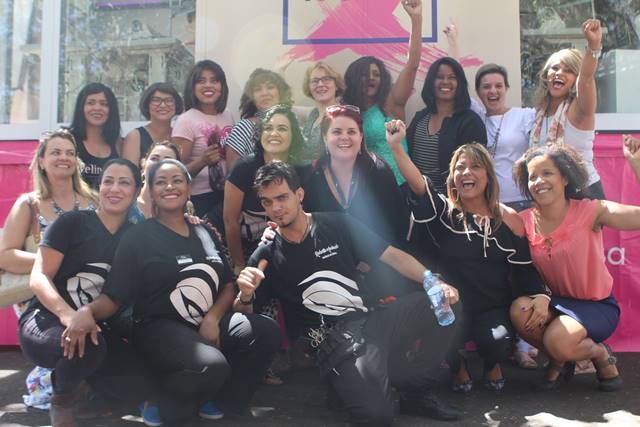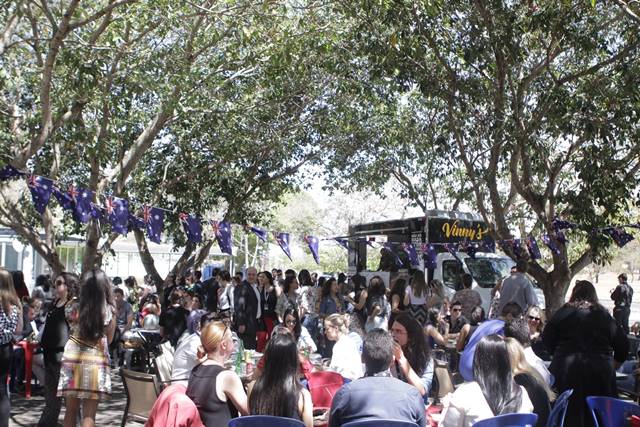 Leaders For the Future: knowledge sharing and promising partnership on education
200 deans and managers from the Federal Network (a network of Brazilian training institutes) participated in the "Leaders for the Future" workshop in August. The workshop focused on best practice in planning and management, as well as brainstorming responses to the opportunities and challenges that the rapidly expanding Federal Network faces. The training was offered by LH Martin Institute in partnership with the Brazilian Ministry of Education's Secretariat of Vocational and Technological Education, and the closing event was supported by the Victoria Government. It was fantastic to see the range of growing educational partnerships between Australia and Brazil.
To celebrate the course, on 24 August Australian Ambassador John Richardson hosted members of the Federal Network, the LH Martin Institute, the Ministry of Education and the diplomatic corps at the Australian Residence. Congratulations to all who contributed to a productive course, which has brought our countries even closer together.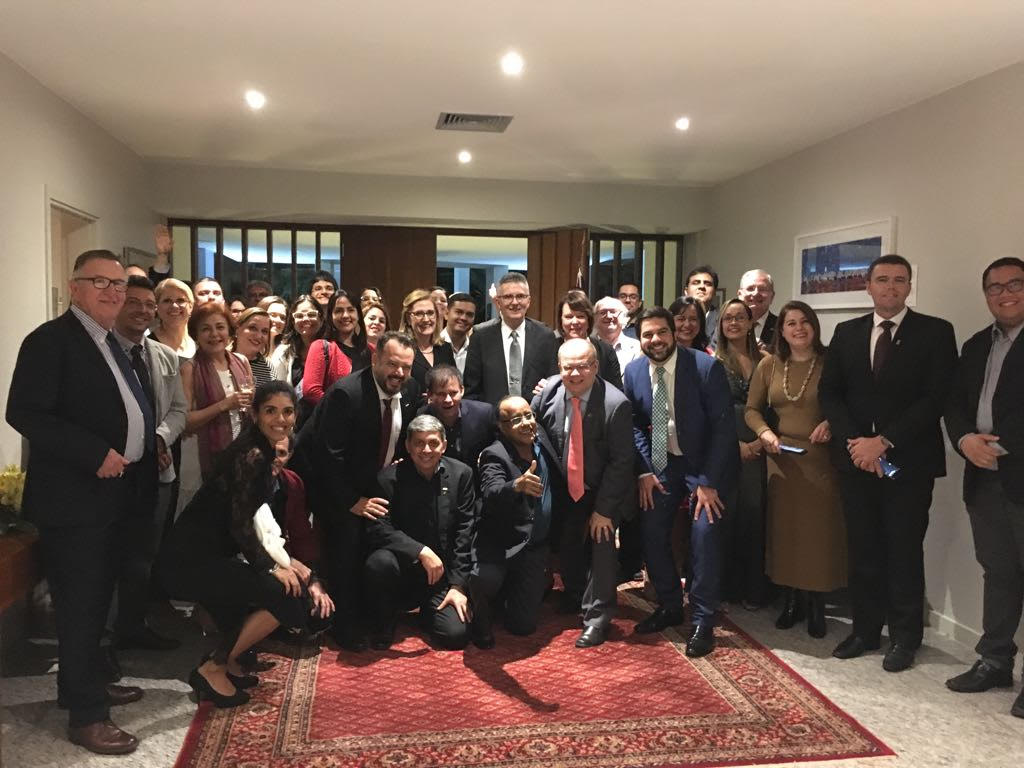 Ambassadors' Cricket Match and The Cricket Ball 2017
On 19 August, the two teams of Australian Ambassador John Richardson and British Ambassador, Dr. Vijay Rangarajan, played in the annual UK-Australia Ambassadors' XI cricket match. The match took place at Nippo Club and aimed to promote cricket in Brazilian schools. Thank-you to all of the Brazilians, diplomats from many countries and other foreigners who played a fantastic match and joined us to celebrate cricket in Brazil.
In the evening, Ambassador John Richardson and Ms Yvonne Flanders hosted the 2017 Cricket Ball at the Australian Residence, in Brasilia. The ball was run by the Brazilian Cricket Association (ABRAC) to raise money for cricket programs in public schools in the Federal District. Thank-you to everyone who made this event possible, especially the sponsors Rendimento Bank, Cotação Bank, Aesop and Cricket Australia. See you next year!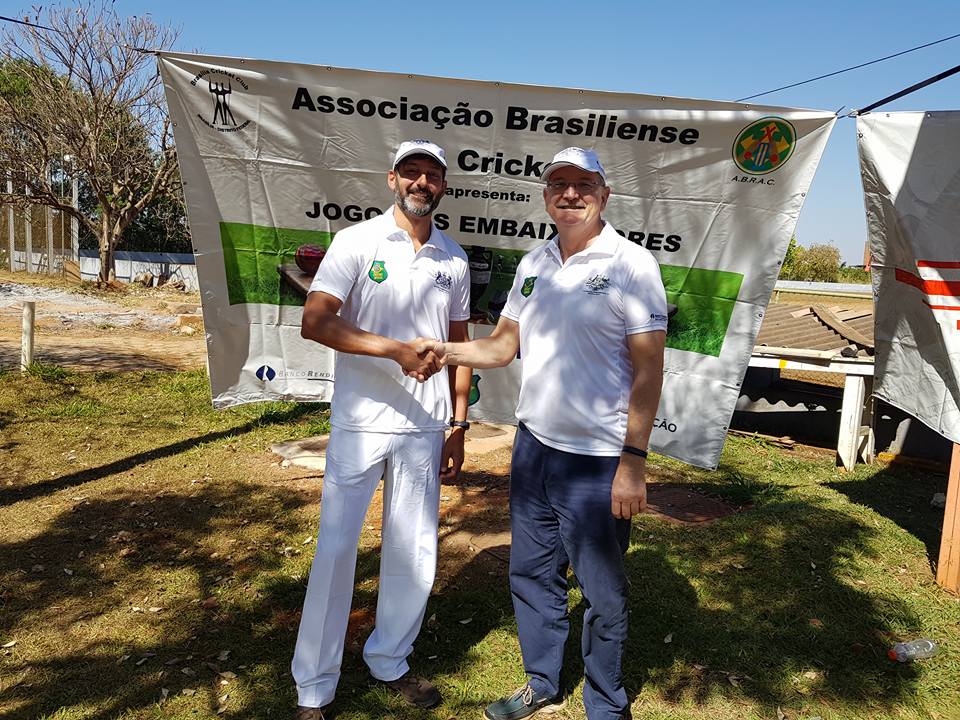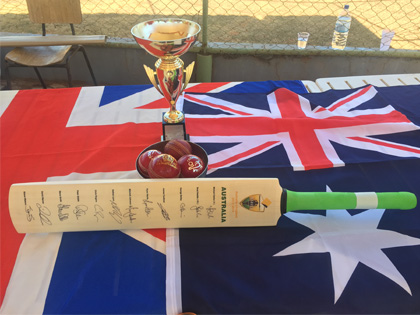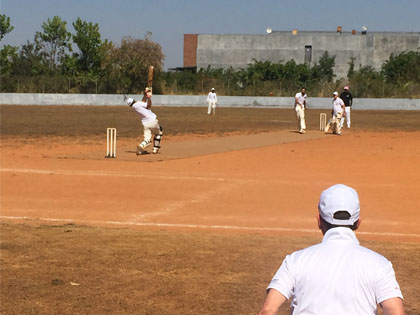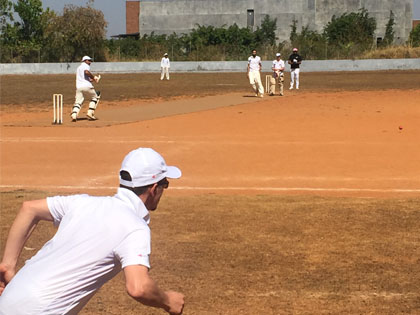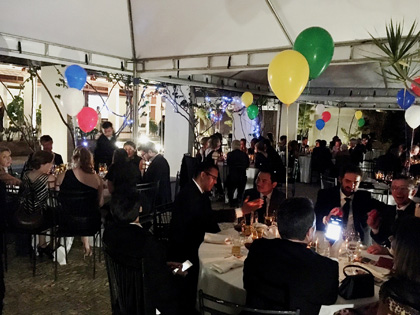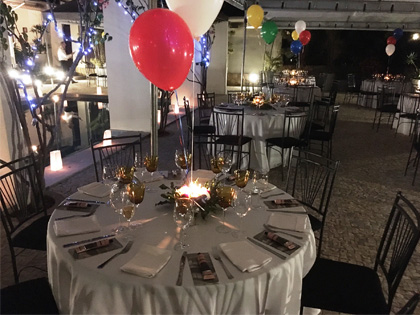 Asia-Oceania Group Luncheon
The Ambassadors of the Asia-Oceania Group were honoured to welcome the Minister for Mines and Energy, the Honorable Mr Fernando Coelho Filho to the Australian Residence on 6 July for the monthly Asia-Oceania Group luncheon. These lunches are an important opportunity for the Group to share views with a distinguished guest, with a different Embassy hosting each month. It was fascinating to hear the Minister's views and policies for the energy and mining sector, a key driver of the Brazilian economy, and an important area of partnership with countries in the group . Thank-you to all who participated.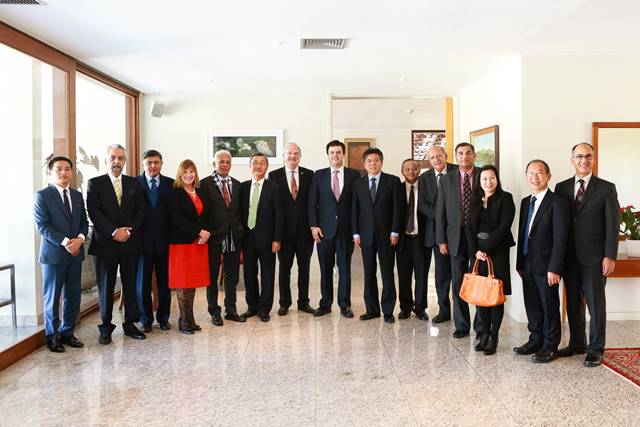 Australia-Brazil Workshop on International Research Collaboration and Working with Industry
On 23 June, we welcomed Australian Technology Network (ATN) participants to Brazil for the Australia-Brazil Workshop on International Research Collaboration and Working with Industry, in Sao Paulo. This workshop is the result of collaboration between the Department of Education and Training, ATN, Austrade, the Department of Foreign Affairs and Trade and Brazilian partners the Brazilian Association for International Education (FAUBAI), The National Council for the Development of Scientific Technology (CNPq), Embraer and the University of Brasilia (UnB). The Embassy would like to thank all the participants who attended to achieve the goal of strengthening cooperation between public sector researchers and industry.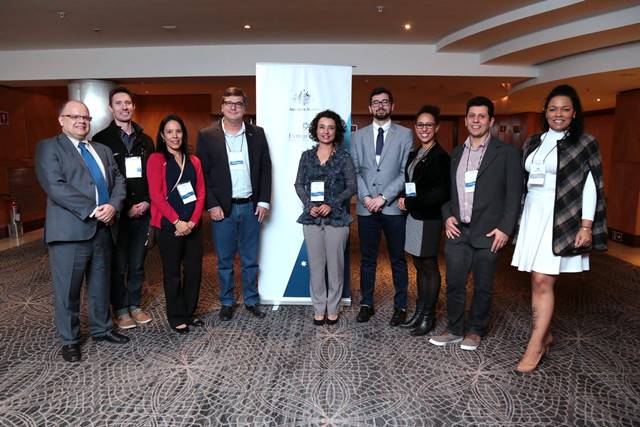 6th Australian Film Festival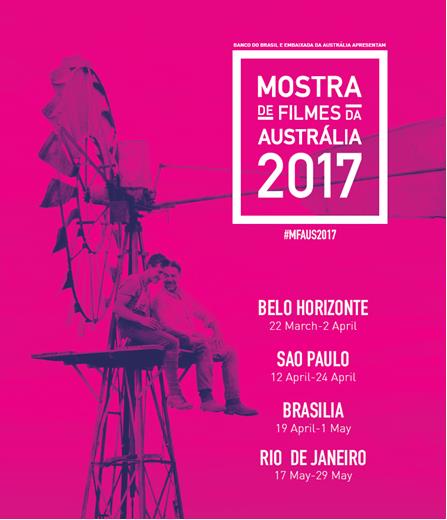 First Agritech Innovation Workshop
A high-level agriculture delegation from the Graham Centre for Agricultural Innovation at Charles Sturt University, the University of New England, and the Agricultural Business Research Institute (ABRI) visited Brazil from 15-19 May to participate in the first Australia-Brazil Workshop on Agritech Innovation. The event was held at the ESALQ Agricultural College in Piracicaba in the State of Sao Paulo, recognised as Brazil's top agricultural tech hub. The Workshop, organised by the Australian Consulate in Sao Paulo through Austrade, aimed to promote Australian capabilities in agricultural and livestock technology and to explore new approaches to industry-engaged research and collaboration opportunities.
Over 70 people attended from the Brazilian scientific community and industry. A number of opportunities for collaboration were identified, including joint research in citrus, sugar cane and peanut monitoring with remote sensing, and studies into joint commercial projects in livestock genetics, feedlot optimisation and bio-pesticides.
Prior to the event, the delegation met the Sao Paulo State Secretary for Agriculture to discuss cooperation opportunities between Australia and Brazil. The meeting generated interest in research on animal science, plant and livestock genetics and nutrition.
This event marked another step to closer bilateral collaboration in developing modern technologies in the agribusiness sector, given the many synergies because of the similarities of our tropical and sub-tropical climates and export of food commodities to Asia.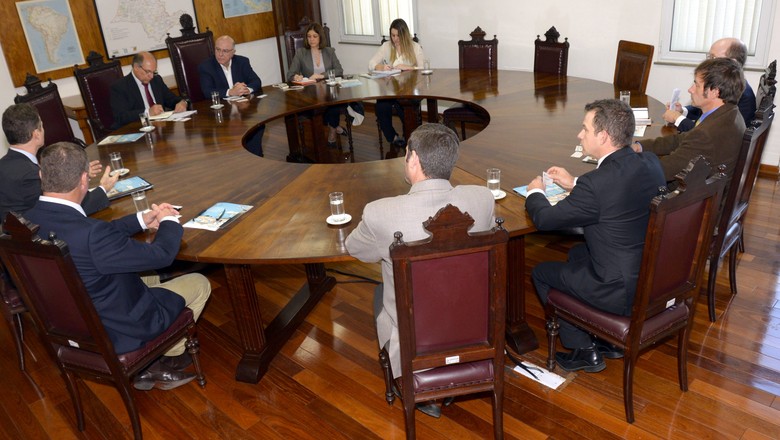 Out of The Dreaming
The Out of the Dreaming exhibition brings Indigenous Australian art and culture – the oldest living cultures in the world – to Brazil. After great success at the Cultural Centre in Fortaleza (Caixa Cultural de Fortaleza), the exhibition is in Rio with works by renowned Australian artists. Don't miss it! From 14 March - 14 May at Caixa Cultural Rio.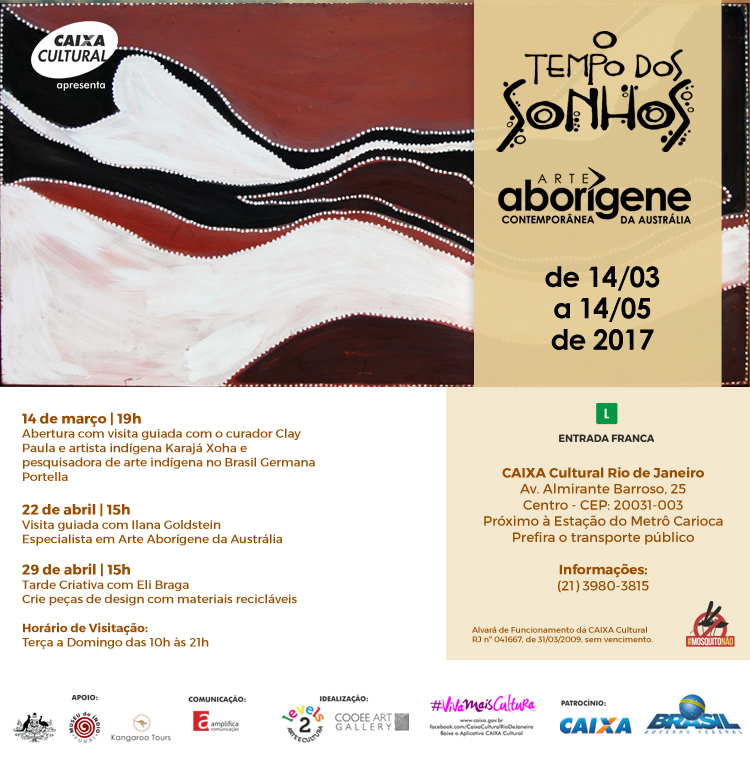 Senior Offical Talks
Australia and Brazil met for senior officials talks on 26 April. Led by Australian Department of Foreign and Trade Deputy Secretary Penny Williams and Brazilian Ambassador Georges Lamazière, Itamaraty (the Brazilian Foreign Service), the discussions covered a broad range of common interests on how we can work together more closely, both bilaterally, regionally and in helping achieve pathways towards peace in conflict zones. Australia and Brazil established a strategic partnership in 2012, and high level talks between officials help to realise the many goals that we share as two large, democratic nations in the Southern Hemisphere with strong people-to-people links, similar geography and shared economic and multilateral interests. Australian Ambassador to Brazil, John Richardson; Consul-General, Greg Wallis; and other senior Australian and Brazilian diplomats participated in the talks.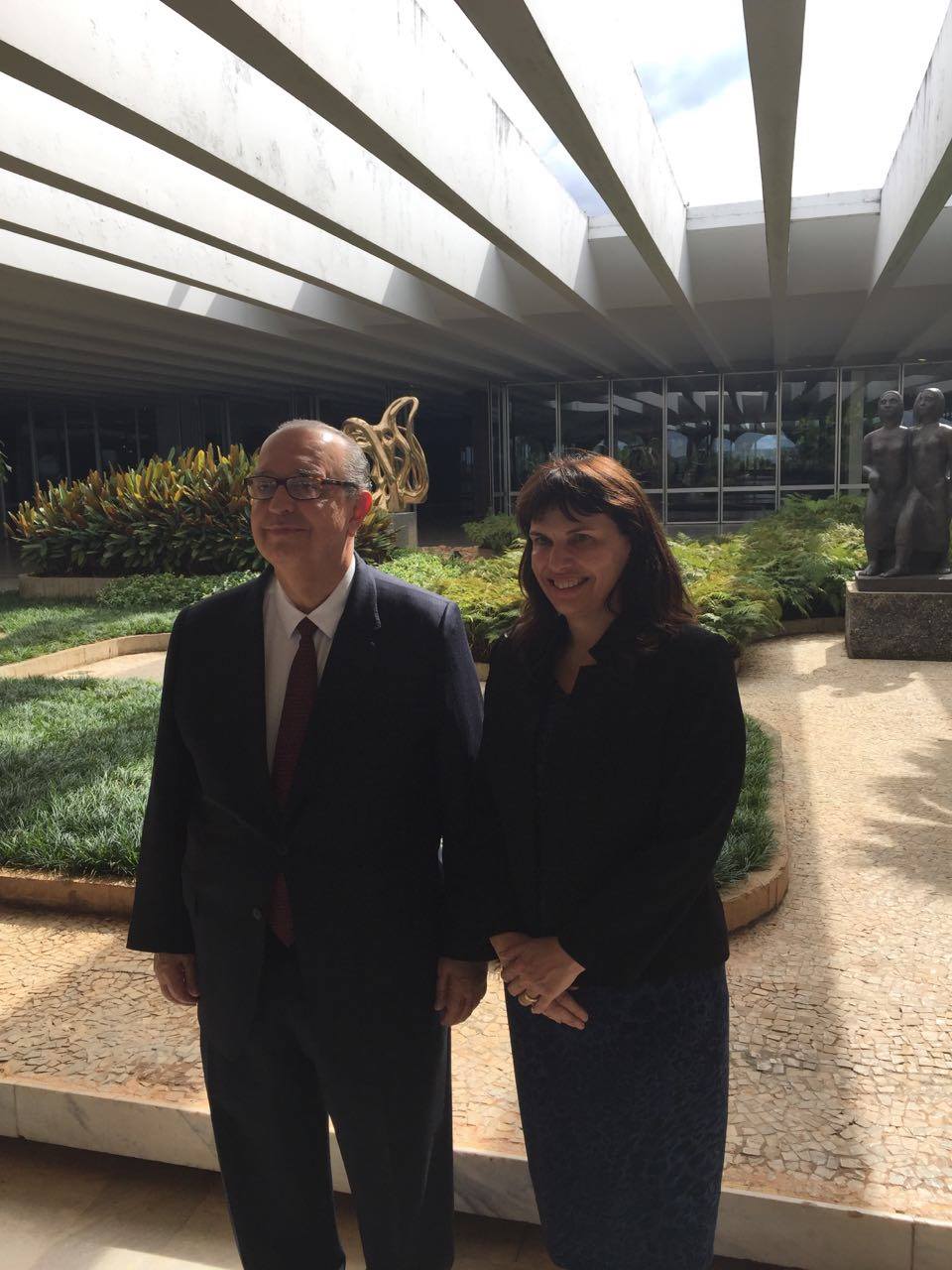 Nuffield Networking Reception
On 14 February the Embassy hosted the "Nuffield Networking Reception" at the Embassy, to celebrate the NuffieldInternational Conference which brought hundreds of people to Brasilia this week. This was the first time the Nuffield International Conference were held in South America!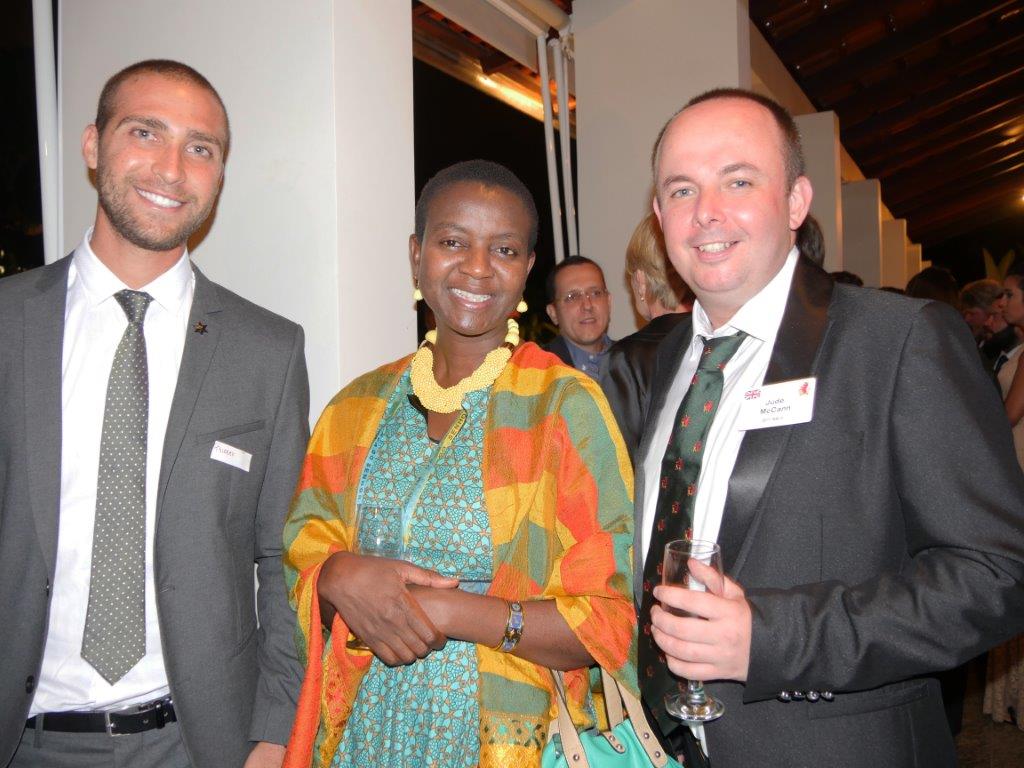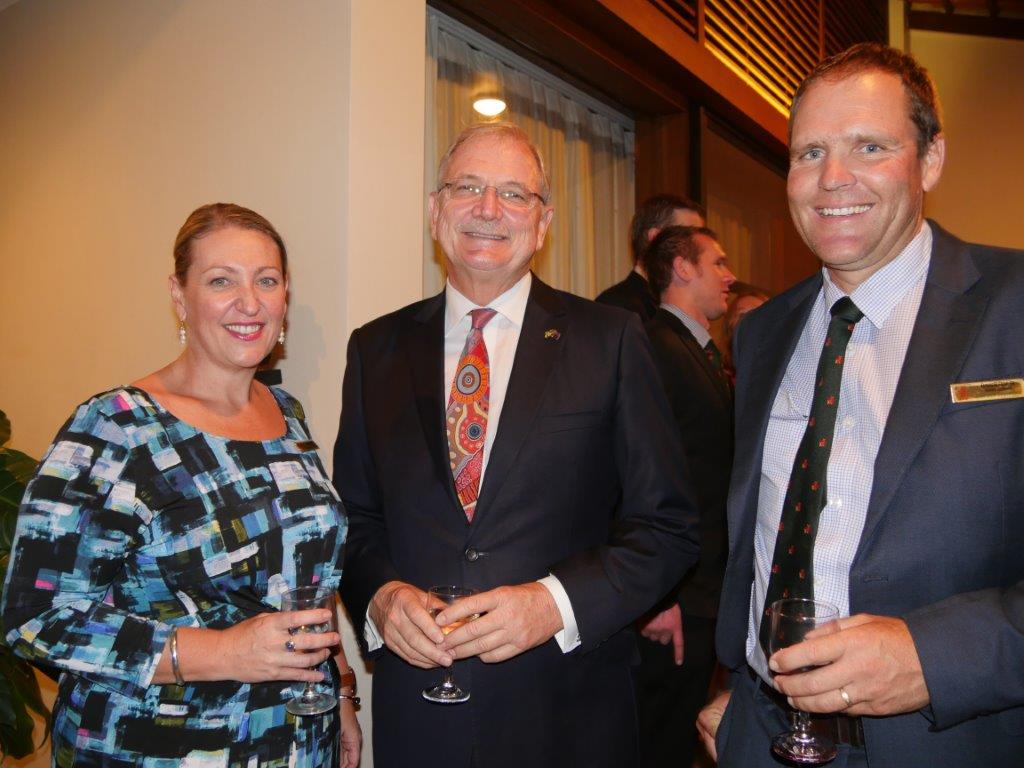 Quiz Night - International Women's Day
The Australian Embassy held a #InternationalWomensDay Quiz Night to raise funds for the Brazilian organisation Casa da Mulher. Thank-you to all of the participants who helped us to raise 6,000 BRL (2,500 AUD) to invest in local businesses run by women who have suffered from violence. Vibrant Ashantis Negras, which brought even more animation to the event! Increasing female participation in politics and economics is essential for social and economic development, and it was fantastic to hear about positive grass roots initiatives like Casa da Mulher in Brazil.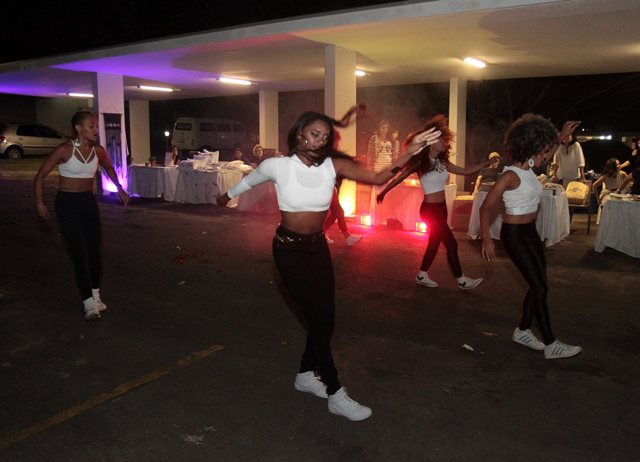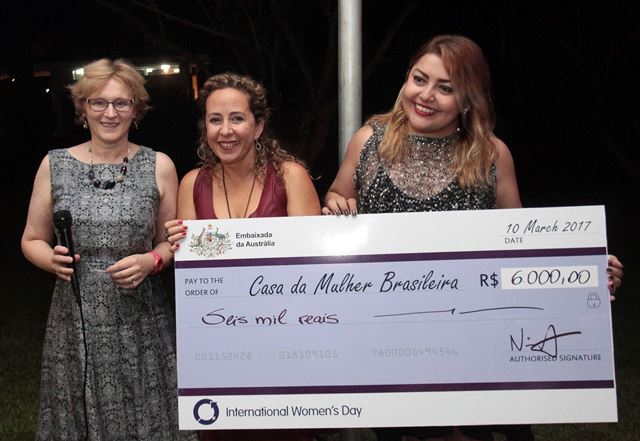 Diário do Olivier: Austrália (Olivier's Diary: Australia)
On 7 March, the Australian Embassy hosted a premiere event for the release of the popular Brazilian TV cooking show 'Diário do Olivier: Austrália' (Olivier's Diary: Australia). Journalists and tourism professionals had the opportunity to taste French chef Olivier Anquier's fabulous recipes at Soul Kitchen Lab, in São Paulo.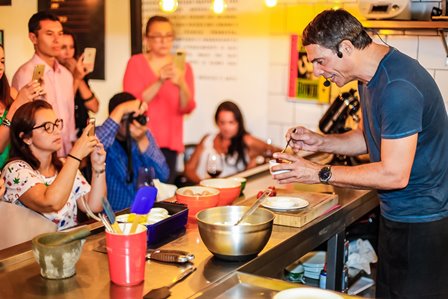 Lion premiere
On 15 Febraury, the embassy staged a premiere screening in Brasilia of the Australian Oscar-nominated film "Lion". The Embassy partnered with Diamon Films (the local distributor) and Cinemark to stage a cocktail reception followed by a special premiere screening. The event was well attended by representatives of the Brazilian Government, diplomatic community and cultural and education sectors.
Australia Day lunch
On Australia Day (26 January), the Embassy held a lunch with valued partners at Hotel Emiliano's restaurant, in Sao Paulo who play an important role strengthening Australia-Brazil relations.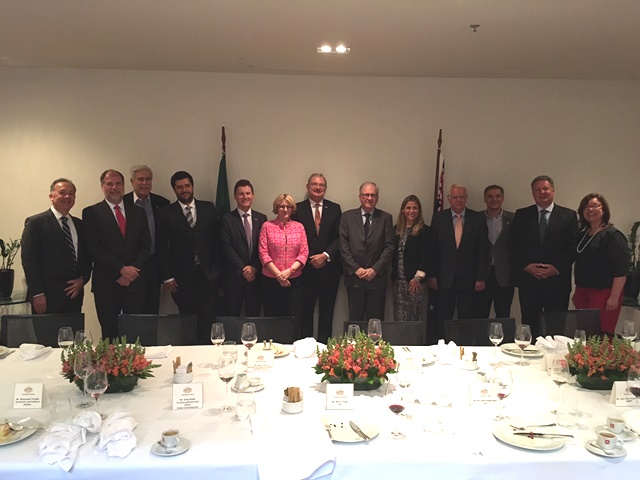 From left to right: Alexandre Pundek (Economic and Political Advisor), Prof. José Celso Freire Júnior (Universidade Estadual Paulista), Dr. Ronaldo Veirano (Honorary Consul of Australia for Brazil), Marcelo Behar(Natura), Greg Wallis, Consul General and Senior Commercial Attaché, Tracy Reid (Deputy Head of Mission, Australian Embassy in Brasilia), John Richardson (Australian Ambassador to Brazil), Marco Zago (Dean of the University of Sao Paulo), Maria Edith Gamboa (Goodman), Raul Machado Neto (University of Sao Paulo), Marcelo de Franco (Butantan Institute), Pedro Moreira (CHEP) e Alcinéia Emmerick (Government of São Paulo). Thanks for join us!
Australia Day reception
In order to celebrate Australia Day (26 January), the Embassy held an Aussie-style reception at Camden House in Sao Paulo! Thanks to all of the 70 guests from across business, academia, government, research and science who joined us on this amazing night to celebrate Australia Day and the ongoing work that has contributed to the growing institutional, government and people-to-people links between Australia and Brazil. We had a blast!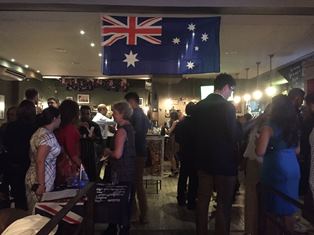 Sounds Australia Trade Mission to South America
Australia's export music market development initiative SOUNDS AUSTRALIA collaborated with the Federal Government's Department of Foreign Affairs and Trade to lead a delegation of music industry professionals to South America in January.

The Australian Music Industry South American Trade Mission has seen top operators from multiple sectors of the industry, including managers, labels, publishers, promoters, PR, media and peak trade body representatives, participate in a range of events at music conferences across Chile, Argentina and Brazil. They joined targeted workshops, showcases and networking meetings to gain an overview and introduction to these important new music markets.

The all-star team included Andrew Stone (Chugg Music), Ashley Gay (Xelon Entertainment), Clara Iaccarino (Perth International Arts Festival), Jaime Gough (Native Tongue Music Publishing), Maggie Collins (BIGSOUND), Matthew Rogers (We Are Unified), Monique Rothstein (Positive Feedback), Scot Morris (APRA AMCOS), Stuart Rogers (Sydney Festival) and Warren Costello (Liberation Music).
To establish and strengthen long-term, two-way business connections in South America, the team had multiple aims that included identifying and securing local partnerships and navigating and negotiating new markets especially with respect to:
Managing tour logistics
Production and presentation values
Promotion and marketing
Media, community and audience engagement
Millie Millgate, Executive Producer SOUNDS AUSTRALIA says: "Building relationships is key to Australia's success in these emerging markets over the coming years. The trade mission presented a meaningful reconnaissance opportunity that sets a strong foundation for reciprocal business and cultural outcomes.

"It's another example of how SOUNDS AUSTRALIA creates game-changing business opportunities for artists and their representatives in various territories, and plays an integral role in helping break Australian artists overseas."
Since its inception in 2009, SOUNDS AUSTRALIA has participated at 50 different international events, taking place in 53 cities, across 20 countries.
The Australian Music Industry South American Trade Mission is supported by the Australian Government through the Australian Cultural Diplomacy Grant Program of the Department of Foreign Affairs and Trade.
2016
Presentation to CNA Youth on Drought and Water Management
On 25 November, the Embassy was delighted to meet the next generation of Brazilian agribusiness professionals. The winners of CNA Youth (CNA Jovem), a program promoted by the Confederation of Brazilian Agriculture and Livestock (CNA) and the National Service for Rural Learning (SENAR), visited us to learn about Australia's experience of drought and water management. As agricultural producers with similar climatic challenges, Australia and Brazil benefit from exchanging experiences in this important area.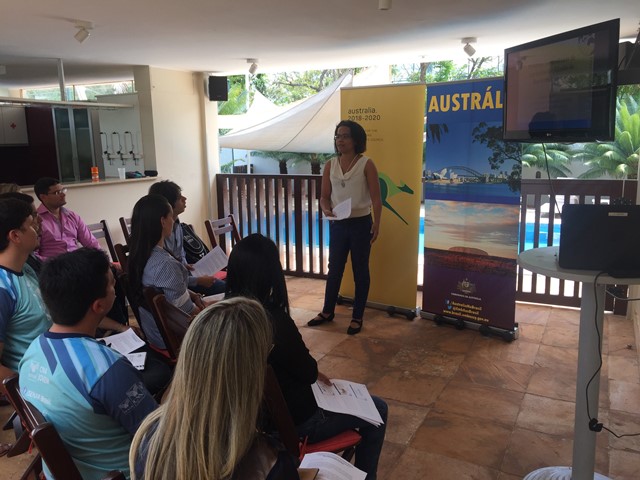 Alumni Event!
Our Alumni students, from São Paulo met at Marakuthai restaurant on 8 November to network and discuss their educational experiences. The event was supported by Austrade and the Australian Centre. Representatives from ATN also joined the event!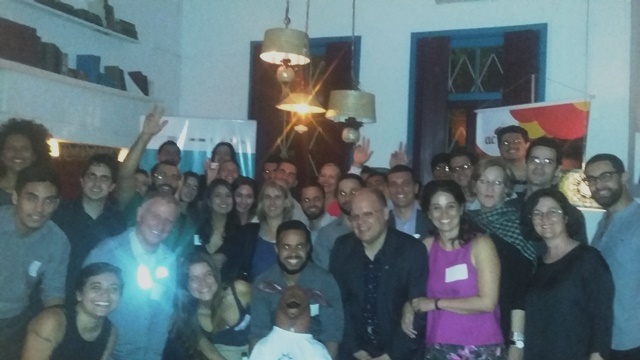 Meeting with Australian Technology Network (ATN) of Universities and Brazilian Association of Deans of State and Municipal Universities (ABRUEM)
On 7 November, Ambassador John Richardson met members of ATN (Australian Technology Network of Universities) and ABRUEM (Brazilian Association of Deans of State and Municipal Universities), to share experiences in the internationalisation of higher education. ABRUEM will visit Australia in 2017 to explore possibilities of further bi-lateral cooperation. The meeting was a great opportunity to discuss the best ways to foster partnerships during their time in Australia.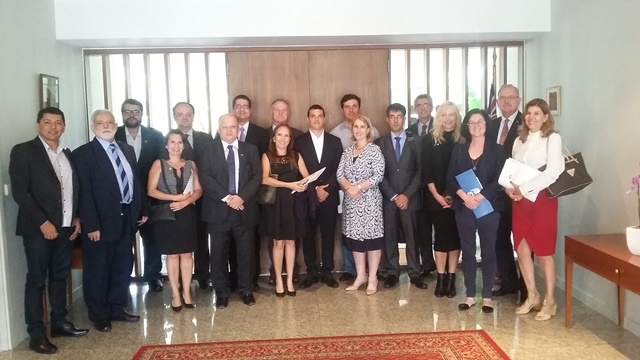 Out of the Dreaming
The Out of Dreaming exposition arrived in Fortaleza on 13 September with an opening ceremony on Caixa Cultural at 7pm! It was a month of contemporary Indigenous Australian art in the capital of Ceará. The exhibition happened at Caixa Cultural (Av. Pessoa Anta, 287 – Praia de Iracema) from 14 September – 13 October. Don't miss it!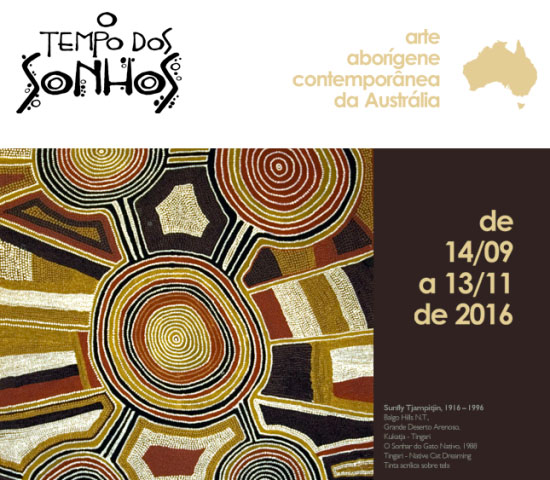 Australia Now Cultural Festival
Each year the Australian government promotes a cultural exchange in a priority country, with the goal of cultivating significant and long-lasting bonds between the two countries.
This awesome cultural festival has recently taken place in Turkey, Vietnam, Indonesia and India. In 2016, it was Brazil's turn to taste the vitality and diversity of Australian contemporary culture. There was be music, dance, theatre, sports, fashion, gastronomy, visual arts, film and photography. This was the first time the festival has come to Latin America!
To see the photo gallery for the event click here
Rio 2016 Games
The Rio 2016 Olympic and Paralympic Games have come to an end – Thank you, Brazil, for the fantastic show you put on for the world's best athletes!
The Games were a great success and we, at the Embassy, are very proud of all the Australian athletes that competed in Rio. It was an intense 4+ weeks of competition, but we know that the journey to Rio was a much longer one - months, years and in some cases decades of training and sacrifice to be selected to represent Australia.
During the games both Olympic and Paralympic teams put on a great performance. Our Olympic team won 29 medals and our Paralympic team won 81 medals, both finishing the games high up on the country medal table.
But the games involved more than just the competitions! It is a celebration of achievement, courage and people from all round the world coming together. In that spirit, the Embassy promoted a range of activities over the period to celebrate sports and the connection between Australia and Brazil.
Official visits
We were delighted to welcome some very senior Australian authorities to Brazil and share with them both the Rio 2016 Games and the great work that our partner DAP projects are doing! His Excellency Sir Peter Cosgrove and his wife, Lady Cosgrove, had the opportunity of meeting with Pipa Social and Luta Pela Paz, and the Australian Minister for Sports, Health and Aged Care, the Hon. Sussan Ley MP, and the Assistant Minister of Sports, Health and Aged Care, the Hon Ken Wyatt, visited the headquarters of Urece. All are NGOs that promote social inclusion through sports.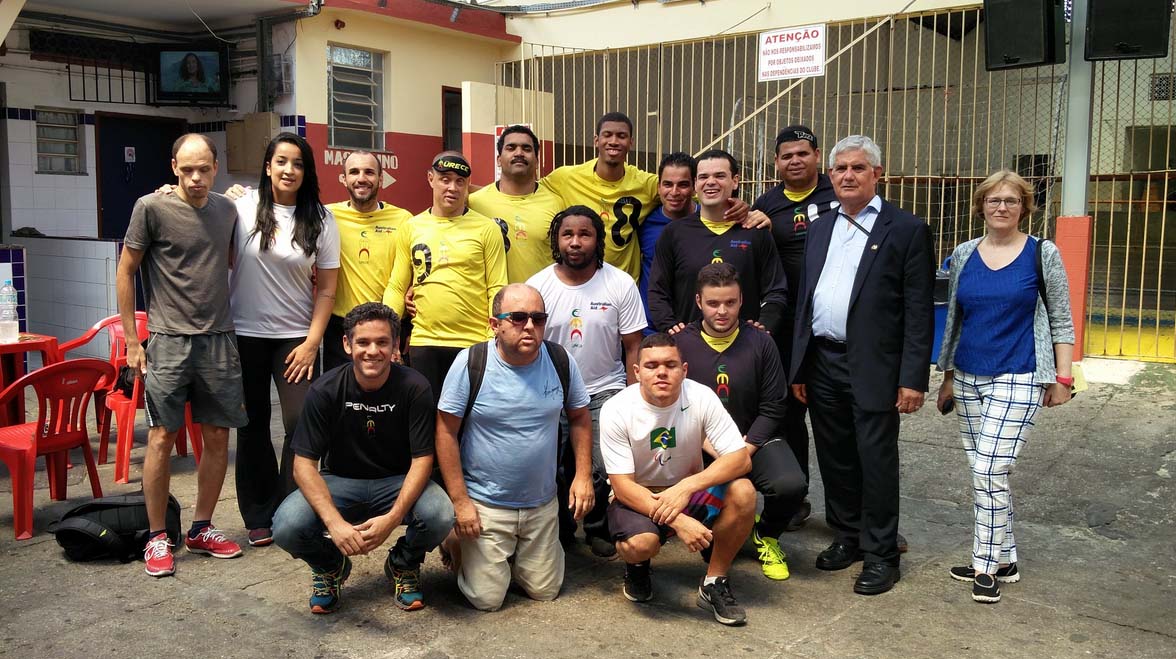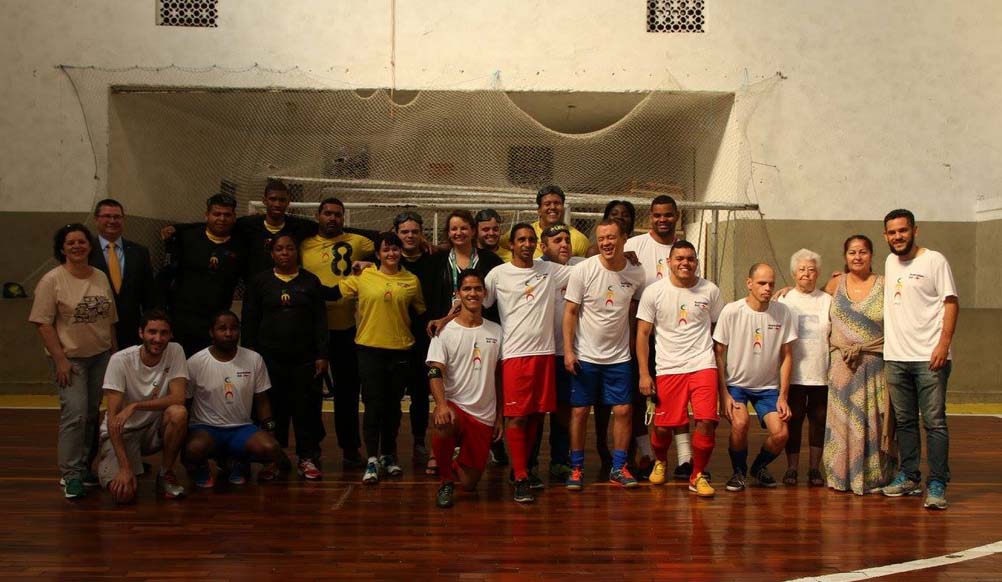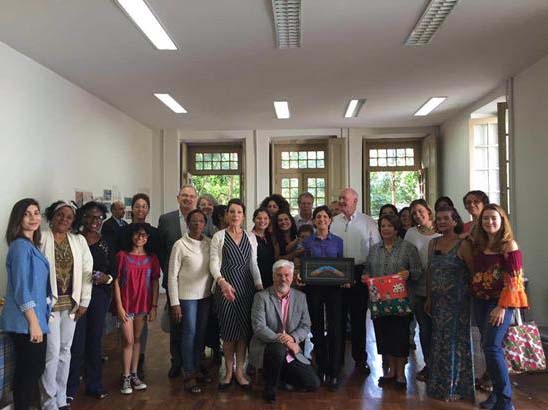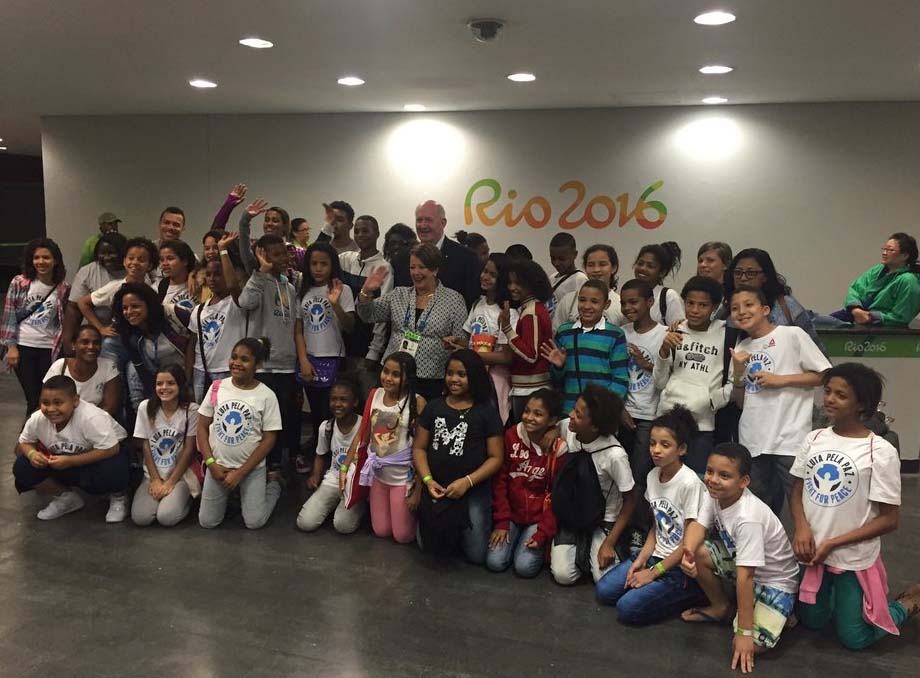 Casa Australia
During the first week of the Olympic Games, Casa Australia was open to thousands of visitors from all over the world, showcasing in particular education, investment and tourism. Casa Australia also hosted dozens of students for an Australian Alumni event, a great opportunity for exchanges of experiences and networking. Have a look at the events in:
http://visit.rio/evento/casa-australia/
http://www.acritica.net/editorias/geral/australia-divulga-seus-atrativos-em-casa-no-centro-do-rio/170022/
http://www.panrotas.com.br/noticia-turismo/destinos/2016/07/australia-monta-casa-no-rj-para-promover-destino_127348.html?lista
http://www.mercadoeeventos.com.br/noticias/destinos/australia-abre-casa-tematica-com-mostra-de-cultura-e-ofertas-de-intercambio/
http://agenciabrasil.ebc.com.br/rio-2016/noticia/2016-07/casa-australia-destaca-negocios-turismo-e-educacao-na-rio-2016
http://agenciabrasil.ebc.com.br/rio-2016/noticia/2016-08/jovens-fazem-filas-para-saber-como-podem-estudar-na-australia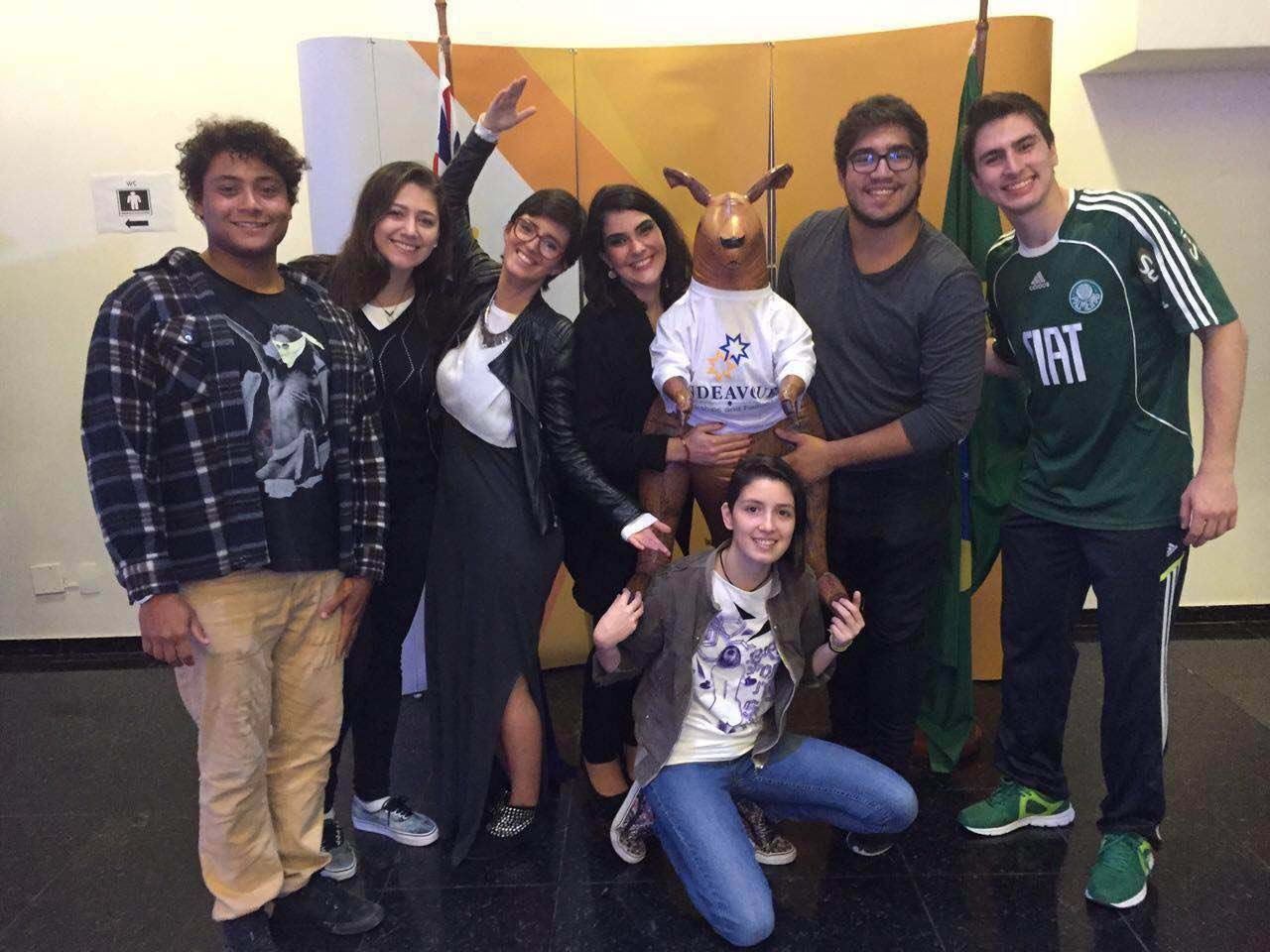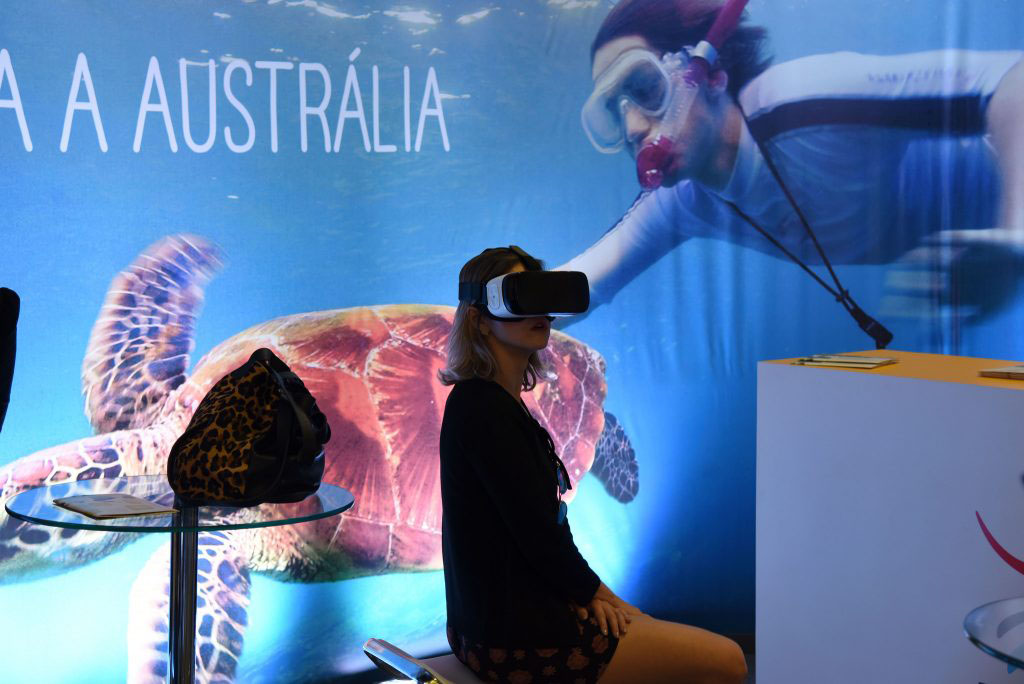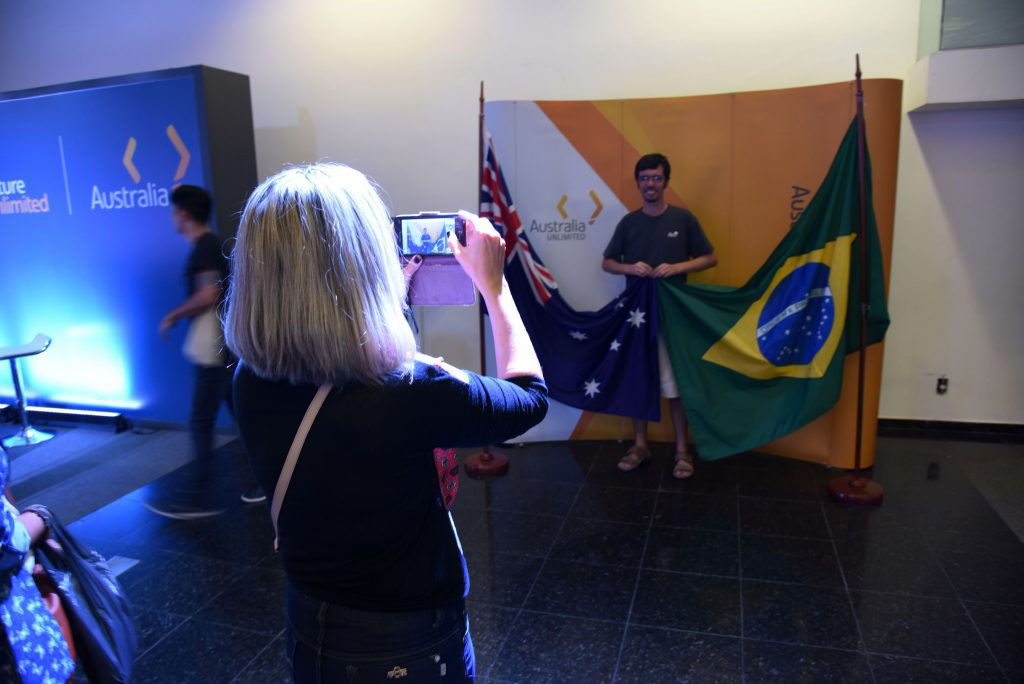 Australian Film Festival
Every year the Australian Embassy organises a festival with a selection of Australian movies, showcased in various Brazilian cities. This year, the Australia Film Festival took place in May in São Paulo, Rio de Janeiro and Brasilia.
Alumni Events
Alumni events are a great opportunity for Brazilians who have already studied in Australia to get to know other alumni, share experiences and improve their network! In April adn May we hosted events in Belo Horizonte, Fortaleza, Natal and Campinas.
Stay tune for upcoming alumni events. If you have any questions, please contact: alumni.brasilia@dfat.gov.au
Donated Boats Baptism – Vela para Todos
On 16 March, the Australian Ambassador, John Richardson, and Ambassadress Yvonne Flanders, had the pleasure of baptising some of the boats donated by the Embassy to the 'Vela para Todos' (Sailing for All) project, alongside the Vice Minister for Sports and Leisure from GDF, Leila Barros, and the DAP and Vela para Todos teams. The Hansa 303 boats are Australian made and adapted for use by people with disabilities. The boats are used by a wide variety of sailors, from young children to the three athletes who will participate in the World Championship for adapted sailing to be held in June in the Netherlands.
The 'Vela para Todos' program has been offering sailing classes for people with disabilities for more than 5 years. In 2015, they were one of the institutions chosen by the Australian Direct Aid Program!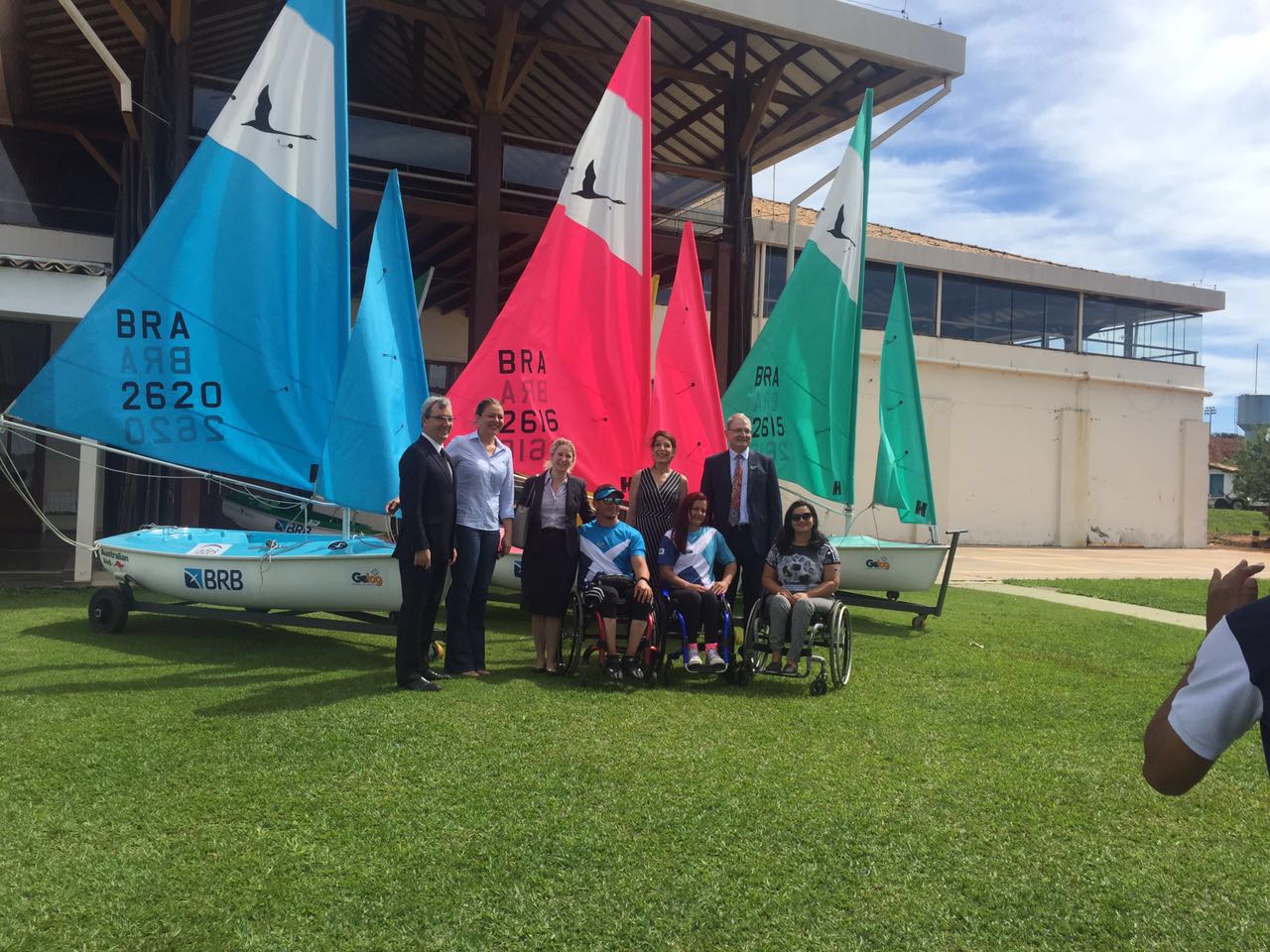 Workshop and Lunch for International Woman's Day 2016
On 8 March, to mark International Women's Day, the Australian Ambassador hosted a lunch and workshop. Law Professor at Brasilia University, Débora Diniz, presented the keynote address on the impact of the Zika virus on Brazilian women's reproductive rights. To check out her lecture, please click the link below:
*In order to activate the subtitles in Portuguese, click configurations, in the bottom right corner of the video.
https://www.youtube.com/watch?v=pgZxXgas6D4&feature=youtu.be
Vibrant arts, culture and music
Discover more about the vibrant arts scene in Australia with the Australia Council and Australian Government's Office of the Arts, including the latest news about Australian artists, events, projects and trends.
Turn up the volume on new Australian music with Sounds Australia.
See what's on when it comes to new Australian films with Screen Australia.
Enjoy Australian and indigenous art with the National Gallery of Australia.
Explore Australia's history and ideas with the National Museum of Australia.
Still want more? Explore the links to Australian art and cultural institutions on the Australia International Cultural Council website or contact directly one of Australia's nearly 200 arts organisations.